Avoiding Common Problems with Your Builder
Family Home Plans
Building a house is a lot of work for the builder, but it's also a lot of work for the homeowner. Here is some seasoned advice to help smooth the construction process.
The homeowner's work begins with hiring the builder, or general contractor, which is where many projects start to go wrong. Yet, problems arise even with the best builders. Costly mistakes, lack of communication, poorly thought-out decisions, inadequate planning, failure to pay attention to the details, and inattention to budget can plague the best-intentioned home construction project.
Building a home is a complex process and a number of small mistakes will happen. On the other hand, you can avoid the biggest and costliest mistakes if you do your homework, communicate clearly, and respect the people building your home.
Avoiding the Low-Bid Dilemma
When you bid out your new home to a carefully selected list of contractors, it's awfully tempting to simply go with the lowest bid. That can be a mistake. Massachusetts general contractor, Andrew Goldstein, calls low bids "seductive," and said it's a fallacy to assume that you should "put out the bid to three or four people and then go with the low bid. The problem with all bids is comparing them once they're in. If you really trace down the nightmares, you'll find that a large part of the problem is that people go for the low-bid price."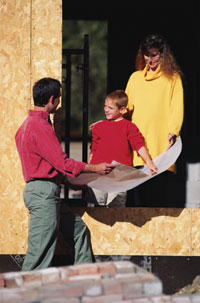 "When somebody bids something too low, they may have done it on purpose and plan to make it up later, or they may have done it accidentally. Either way, they'll soon be in trouble because they're losing money. On some level, they may start doing things subconsciously like shaving time and cutting corners."
It's difficult for the average homeowner to know whether the low bid is really the lowest because all builders figure costs differently. "You have to get apples-to-apples bids, which is hard to do," Goldstein said. "Every builder does it differently. If you are going to put out bids, it's good to put out your own template."
Creating your own template means putting together a list of specific tasks that each contractor will have to treat similarly. "One way of creating a template is to take a look at your house. You probably won't be able to think of everything, but list things like painting, heating, foundation, roofing, framing, insulation, siding, electrical, plumbing, drywall, flooring, maybe tile. If a homeowner thinks about it for a half hour they can create this template. Say they even left out six or seven things-whatever they came up with at least gives them some basis to compare bids."
You might take this process a bit further and add more specifics to each category.
For painting, ask for costs to apply two coats of a specific brand of paint; for plumbing, ask for total costs to rough-in, connect to the municipal water supply and sewerage system, and to install all fixtures, specifying the brands and models.
Once you receive quotes from your list of potential contractors, you can do equal comparisons. You still won't know everything, but you'll have a fair understanding of each builder's costs in relation to the others.
In other words, do your homework. "You have to do your homework or else don't complain," Goldstein said. "If you do it in a casual way, you should expect poor results."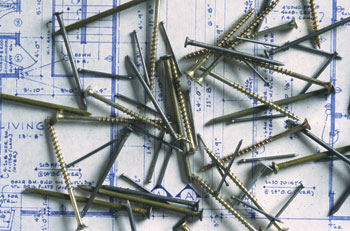 Don't Forget the Paperwork
Let's assume that you chose a reputable, reliable builder, somebody you feel you can trust to do his best building your new home. Are your worries now over?
"Something you want to do now is protect yourself," Goldstein said. "Once you get a contract, make sure the builder has a license. And you should make sure they're carrying liability and workman's compensation insurance."
In most states, the homeowner will be liable for any damages or injuries occurring on the job if the contractor isn't insured or is under-insured. Goldstein recommends that homeowners get certificates of insurance on both liability and workman's compensation, as well as on the builder's automobile insurance policy.
To further protect yourself, ask the builder for a lien waiver, which releases you from responsibility if the builder fails to pay subcontractors and suppliers.
"I can't speak for every state, but in Massachusetts, if you pay your builder and he does not pay his subcontractors, they can come after you. The same goes for the suppliers. You want to do as much as possible to make sure that once you pay him, he pays them."
The lien waiver is important for a number of reasons. Your contractor will have subcontracts with a lot of different companies and people, including roofers, excavators, mechanical contractors, painters, and all the other trades that most contractors hire for a job. The contractor also buys materials from several different supply firms, where he likely has accounts. If they're not paid, every subcontractor and every supplier will have a right to file a "mechanic's lien" against your property if you're not protected by a lien waiver. If such a lien is filed against your property, you can't sell or refinance the property until the lien is removed. Be wary of a builder who won't supply lien waivers.
Be Sparing with Changes
If we were to create a list of the biggest potential problems homeowners face when having a home built, change orders would probably rank right up there with hiring the builder.
A change order is a written order to the builder to change the plan of work, whether deleting some element of the construction project, adding some element, or, most likely, simply changing some element, such as swapping a lower-quality countertop material like laminate for a higher quality material like solid-surfacing. Minor changes usually don't cause problems. It's the bigger changes that cause problems because they have a ripple effect throughout the tightly scheduled construction project.
"If you assume the builder is competent and honest, the biggest problem in terms of budget and schedule is changes," Goldstein said. "If a homeowner cares about his money and his schedule, he should try to understand what he's building before he starts and be happy with it. But once you start changing your mind, it's costing you money and you're demoralizing the builder."
Goldstein, whose general contracting company, Thoughtforms Corporation, was chosen Custom Builder of the Year by Custom Home magazine, has thought a lot about this issue and offers good advice. "Change orders make the (construction) process less-efficient and cost more," he said. "Let's say he (the builder) has ordered the lights you chose for the kitchen but you say, 'No, we're going to get different lights.' Or he's ordered your cabinets and you've suddenly changed your mind. These changes add layers and layers of inefficiency," Goldstein said. "It's demoralizing to the builder and it sets a tone."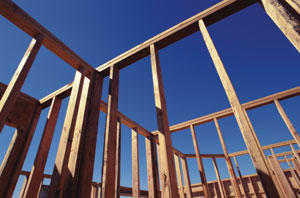 He gives a similar example involving decision making. "Let's say (the builder) bid the job with a tile allowance" and it's time to schedule the tile installer, "but you haven't picked out your tile yet," he said. "That can slow down a number of other jobs the builder has to schedule. What you're saying is that you've changed your mind, that the sub (contractor) doesn't have to come now. That sends a message to everybody on the job that the schedule isn't important."
A Few Fine Points
Take care of the little things and the big things take care of themselves, the saying goes. That being the case, the little things often add up to big things, and there are a few of the little things you should remember as you work with your contractor to build your home.
One of these is communication. "You should have formal meetings, even if you plan to show up every day," Goldstein said. "You should have a formal meeting scheduled. You sit down, you go over the issues, problems, questions. If there's a lot discussed, meeting notes are taken."
These don't all have to be long or in-depth meetings, but these meetings need to be established in a formal way. "What this means is that you're imposing a discipline, that there's a formal structure here," Goldstein said. "This doesn't limit you from having informal conversations. But it gives the meetings, and what you say at them, a little more weight." These meetings will also help make sure you know what's going on so you're not taken by surprise.
"You're dealing with a construction project that is completely reliant on the people doing it," he said. "Other consumer products are made over and over, identically. Here we're doing it outdoors, it's a big thing, it costs a lot of money," and both the homeowner and builder will find the process smoother when things get talked out on a regular basis.
Finally, Goldstein offers a more subtle piece of advice, one whose meaning bears on virtually every relationship in the working world. "I would suggest that, as much as possible, the homeowner should convey to the people who are working on their project-and I don't mean in a phony way or that they buy them things-but they should convey an appreciation that these people are trying to do a good job for them," he said. "These are people who are out there working with their hands, and this means a lot to them. If the homeowner comes across as arrogant, they'll ultimately end up with a worse job. But if, in an honest way, they can let it be known they appreciate that, they'll get a better job."