Swimming Pools and Real Estate Value
Family Home Plans
The Coolest Thing in New Home Construction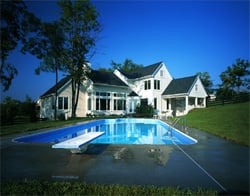 A pool surrounded by a sturdy deck of either concrete or wood and set in a nicely landscaped yard can provide hours of recreation and a beautiful backdrop to your home. Photo courtesy of Donna and Ron Kolb, Exposures Unlimited.
We've all heard that a built-in pool does nothing for your home's resale value. But Patty Hulbert of the National Spa and Pool Institute in Arlington, Virginia, has a different opinion. "A lot of homeowners won't buy a home that doesn't have a pool. They add value because they're aesthetically pleasing," she says. "Who doesn't want to look out of their dining room or
living room and onto a cool blue pool? We're definitely seeing today that a lot of people are seeking to add comfort into their lives and they're turning their backyards into little getaways, adding full-fledged backyard kitchens, decks, and, of course, swimming pools."
The number of backyard pools grows every year. The Institute estimates that, as of 1998, the country held about seven million private swimming pools, slightly more than half in-ground.
Four basic pool options are available: a gunite or concrete pool, a fiberglass pool, a vinyl pool, or an above-ground pool. In-ground pools include concrete or gunite pools, in which material is sprayed or pumped onto a network of steel reinforcement rods; fiberglass pools, which are dropped into a hole in the backyard; or a less-expensive vinyl liner pool.
Above-ground pools are almost always vinyl attached to a metal frame.
The first step is to decide how much you wish to spend on your new pool. Pool costs range from about $1,500 for an above-ground pool up to $40,000 for a high-quality in-ground pool. Although the average for an
in-ground pool is about $25,000, there is no ceiling on what a pool can cost. The bigger and fancier the pool, the more you should expect to spend.
Concrete Pools
Gunite or concrete pools are by far the most expensive,
but also the highest quality. Installing a gunite pool is a big production that begins with the custom design of a pool for the particular site. Design includes checking the yard for obstructions and buried utilities (this also applies to the other varieties of in-ground pools). Your pool contractor should have a design professional on staff to help with the design.
Next you must apply for permits and in some cases, get permission from your homeowner's association. After that, the builder shows up with a crew and lays out the area where the pool will be installed, often using a special spray paint to outline the location and shape of your pool. That's the time to alter the design if you suddenly get the feeling that the size or shape just isn't right for you.
During excavation, the pool begins to take shape. This requires some heavy equipment, so make sure your builder will clean up any ruts the equipment leaves in your yard. Once the hole is dug, steel reinforcement rods are tied together to create a sort of skeletal shell to
accept the gunite, or sprayed-on concrete. Once that's done, the plumbing gets installed, which includes water supplies and skimmers (the pool's main filters), returns, and intakes. Also the pool gets wired for underwater lighting, pumps, and filters.
At this point the truck is brought in, a huge hose unrolled, and a worker begins spraying gunite onto the steel reinforcement frame. This is often sprayed on to a thickness of 6 inches on the floor of the pool and up to 12 inches on the sides. Finally, tile of your choice is laid at the waterline and the pool is plastered to give it a smooth finish. Then, after two weeks or so of curing, the pool is ready to be filled.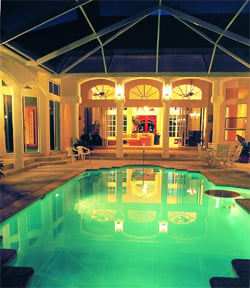 A custom in-ground pool can be a source of great pride and pleasure. It offers an unequaled means of entertaining, cooling off, and relaxing. It also provides a place for great exercise. And, like this example, your pool can be designed as an integral part of your home. Photo courtesy of Sater Design.
Fiberglass Pools
Another option is fiberglass, in which a full fiberglass "shell" is placed directly into the ground. The initial steps for installing a fiberglass pool are the same as for the gunite pool; the difference stops with the excavation.
Installing a fiberglass pool is a whole lot less complicated and time-consuming than installing a gunite pool. Basically, once the hole is dug, the bottom and sides of the hole are groomed with fine plasterer's sand, and the rough wiring for the pump and lighting are installed.
Meanwhile, the fiberglass pool arrives on a big truck, along with a crane, and the shell is lowered into place. Once it's settled into the hole, the work crew will level the fiberglass shell, backfill around the pool using more sand to make sure there are no voids, then fill it with water.
The installation crew will let the pool settle for a few days, after which you can feel reasonably certain there will be no more movement and you can go ahead and build a wood or concrete deck around it.
If you've got the money, you can create an entire ecosystem around your pool, like this example that's enclosed by a large sunroom structure. With heat provided by the sun, this greenhouse-type pool room can be used nearly year round. Photo courtesy Sater Design Collection.
Vinyl Pools
These are probably the most cost-efficient types of in-ground pool, although not as durable as gunite or fiberglass.
This process also begins with the excavation of a hole in your backyard. Preparing the ground inside the hole for a vinyl pool liner is a bit trickier than for either of the other two, however. Your installer will have to make sure there are no sharp sticks, roots, or stones in the hole and will work hard to create smooth surfaces all around. As sturdy as a vinyl pool is, it's still no match for a sharp rock—especially when you add the weight of 10,000 to 20,000 gallons of water (one gallon of water weighs
8.34 pounds, so 20,000 gallons would weigh more than 168,000 pounds).
Once the pool liner track is installed around the perimeter of the pool, the vinyl liner is put into the hole and attached to the track. Next the drain and other components are attached and sealed and the pool is filled with water.
Why buy a pool
The two factors most often cited by people for building a pool in their backyard is either to create a place where their family can enjoy being together, or to keep in shape by using the pool for regular excercise.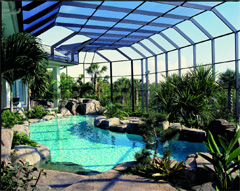 But a pool is also a great place for entertaining. Parties are great with a pool as a backdrop. Add some landscaping, extra water features (like a waterfall cascading down some real or artificial rocks, a fish pond, a fountain), decks, and an outdoor kitchen and you're all set to throw the best party in the neighborhood.
"The majority of people searching for a home find it hard to resist the many benefits of pools," Hulbert says. "Who wouldn't be willing to pay a little extra for a hidden backyard paradise featuring an old-world style pool?"
There are no exact rules for determining how much value a pool addition will add to your new home, but nowadays pool value is calculated in terms of its benefits. Family togetherness and fitness are just two of those benefits.
"All over the nation families are using their pools as gathering places in order to spend time together and as spots to relax and unwind after a hectic day," Hulbert says. "Other families are using their pools for full-fledge fitness because a water workout is one of the best ways to stay fit. (For these folks there is tremendous benefit in not having to use valuable time getting to and from the nearest fitness facility. Not to mention, their private pool is available 24 hours a day, seven days a week.) So, for families searching for 'the' special home that will provide these added benefits, there is tremendous value in finding a home with an inviting pool."
Finally, consider that a backyard pool represents what lawyers call an "attractive nuisance," which means that people especially children are attracted to it. Most states require that people who own a pool take reasonable steps to protect children from getting hurt in or around the pool. These steps include having adults present whenever kids are around, and even building a fence to a certain height around the pool.