The Backyard Kitchen
Family Home Plans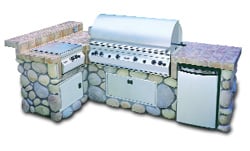 Today we cook outside for fun more than ever. It is estimated that Americans will cook and consume three billion-that's 3,000,000,000- meals outside this year on 80 million grills, at about 37.5 meals per grill each year. But like nearly everything else we do today, we tend to "supersize" things. So it won't surprise you to hear that some of us spend thousands of dollars creating outdoor kitchens replete with stainless steel refrigerators, wine chillers, and beer coolers; stone, stainless, or tile counters; huge outdoor grills set into stone or stucco or stainless steel islands; expensive teak furniture; even wood-fired pizza ovens.
Are these super-fancy outdoor kitchens evidence of conspicuous consumption, created just to impress neighbors and friends? Maybe. But they're also fun. Besides, your outdoor kitchen doesn't have to be overly complicated or nearly so expensive to be just as functional and fun.
Other Backyard Project Ideas
This unusual charcoal grill is
probably unlike anything you've seen before. Called the Big Green Egg because of it's shape and color, this thick ceramic cooker effectively seals in the heat thanks to its tight-
fitting lid and adjustable damper. (Photo courtesy Big Green Egg)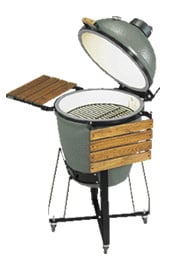 For far less than the $30,000-plus some people spend to create an outdoor kitchen, you can achieve the same results: a private backyard spot to cook, eat, entertain, and enjoy the outdoors. The trick is to plan for it before your home is built and to design according to your needs. Or, build up your outdoor kitchen a bit at a time over a period of a few years.
Planning before you build is critical to holding down costs. By budgeting your outdoor kitchen into your new home project, you save a lot of money. It's a lot simpler, easier and cheaper to run electric, water, gas, and drain lines while your home is being built than to retrofit these utilities once the concrete is poured. Then you can purchase the components when the time comes.
A large built-in grill, refrigerator, warming drawer, side burner, beer dispenser, and gas-fired space heater turn a backyard patio into an extension of your living room and kitchen. (Photo compliments DCS)
Grills come in four price categories: mass-market grills under $300; more up-scale grills in the $300 to $800 range; premium level that cost, say, $800 to $2,000; and ultimately the super premium grills that cost nearly as much as a new car.
The newest trends in outdoor cooking include sideburners on grills (about 35% of grills have them, for cooking pasta or simmering barbecue sauce or cooking vegetables); more workspace (most grills have side shelves and racks to make cooking outside more convenient); and many grills are being sold with carts, which provide inside storage space for holding tools and condiments. Other trends include adding wood-fired pizza ovens, infrared cookers, warming drawers, refrigerators, trash compactors, outdoor heating, and outdoor sound systems.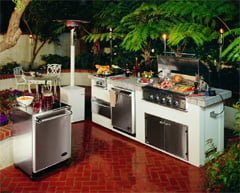 Choosing a Backyard Grill
The Hearth, Patio and Barbecue Association recommends that you consider a few key issues before buying your next grill:
Analyze how you will use your grill:
Is portability and ease of movement important?
Will you stick to the basics in your cooking or get adventurous?
How many people will you typically cook for?
Will your grill be in a spacious yard or on a small patio or deck?
Is price a paramount issue?
Choose your fuel:
Charcoal. If you prefer the taste of charcoal-grilled food and don't mind the challenge of lighting and cooking over coals, a charcoal grill is for you. Look for:
 Sturdy construction
 Shelves or handy workspaces
 Cooking grids with a hinged section for adding charcoal easily
 Deep ash catchers that require less frequent emptying Gas.
If convenience is a big concern, go for a gas grill. Or consider a natural gas grill, which offers even more convenience. When shopping for a gas grill look for:
 A covered grill that's ideal for use in any weather
 Shelves or handy workspaces
 Warming shelves
 Sideburners
 A large cooking surface
Electric. If you live in an apartment or condominium, you probably want an electric grill, which should:
 Heat quickly
 Be as easy to operate as your indoor electric stove
 Reach temperatures up to 700¾F
 Maintain temperature even after you add cold food to the cooking grid
With any grill, look for:
 A grill with at least 400 square inches of primary cooking space if you cook out often
 Warming racks that supplement primary space
 BTUs:
 Small portable grill with about 20,000 BTUs
 A regular-size grill from 30,000 to 50,000 BTUs
 A premium or super-premium grill with 50,000 to 100,000 BTUs and three or more burners
Check the features:
(Some of these features are standard on expensive grills and others are add-ons)
 Side burners
 A delicate-foods grid or grill topper
 Smoker boxes (or drawers)
 Rotisseries
 Built-in or clip-on lights for night barbecuing
 Upgraded cabinetry
 More storage space