OUTDOOR FURNITURE
Family Home Plans
If you think your living room furniture takes a beating, imagine what your outdoor furniture goes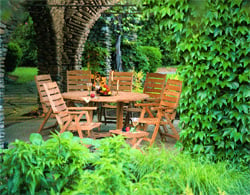 through. The "elements," as we call them, will really do a number on any unprepared thing left to their mercy. Outdoor furniture has to take this beating, remain useful, and still look good.
Creating Backyard Comfort

As we turn more and more to our houses as a retreat, we're watching our backyards become extensions of our homes. "We expect many
[consumers] will be looking to create their own outdoor escapes at home," said Jackie Hirschhaut, vice president at the American Furniture Manufacturers Association. "We also expect to see particular interest in furniture that is conducive to entertaining on porches, patios, decks and the like. Consumers will be creating their own little paradise with vacation-like spaces in their own yards."
High-quality teak furniture, like this outdoor dining table and chairs, can stand up to outdoor exposure even in a coastal setting. Photo courtesy RockWood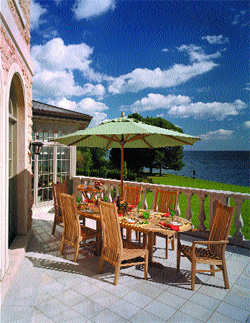 This Year's Trends
Comfort is at the top of consumers' wish lists. Manufacturers have responded by presenting such new offerings as oversized dining tables,
larger, more elaborate outdoor bar sets, and cushy, comfortable lounging pieces. Some trends include:
Wood tones
Earthy and bright
Fabulous fabrics
Function rules
Best bars
Mix it up
Hirschhaut says, "Because outdoor living has become so popular, the selections are better than ever. Manufacturers are loading their outdoor furniture with comfort, function, and great-looking style."
Tips for Taking Care of Outdoor Furniture
The American Furniture Manufacturers Association offers the following tips:
Aluminum frames
Clean with mild soap and water. For non-textured surfaces, apply an automotive wax every few months. On textured finishes, periodically apply baby or mineral oil. Occasionally spray oil lubricant on chair swivels or glides.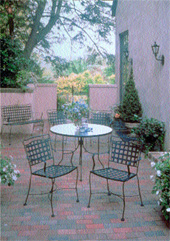 Tempered glass tabletops
Clean regularly with a soft cloth, a mild detergent, and warm water. Buff dry with a clean, lint-free cloth.
Outdoor wicker
Vacuum gently or brush with a soft bristle brush. Hose off and clean periodically with mild detergent and water. Rinse and air dry.
Vinyl straps
Wash with mild detergent and warm water. To remove scuff marks, apply toothpaste or gentle abrasive and rub gently with a dry cloth. To remove mildew, use a solution of warm water, mild detergent, and bleach. Apply vinyl protectant to the straps.
Cushions
Vacuum as needed. Clean with mild detergent and warm water. Rinse and air dry. For mildew, use a solution of bleach. Rinse and air dry.
Test an inconspicuous spot first.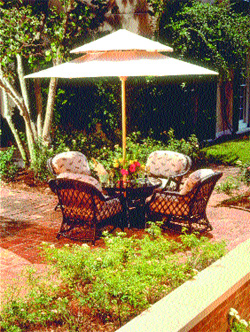 Wrought iron and steel
Clean with warm, soapy water. To maintain the gloss on non-textured surfaces, apply automotive wax. On textured finishes, periodically apply mineral or baby oil. For rust, sand lightly then wipe thoroughly and apply touch-up paint.
Hardwoods
Clean with mild detergent and water. Teak and Jarrah can stay outdoors
year-round. Pine, oak, and cedar should be stored for the winter.
Umbrellas
Wash covers with mild soap and water. Spray silicone on the joints of wire frames. Use wax or furniture polish on wooden umbrellas.
The Camino Real lounge chairs and conversation cocktail table by LaneVenture are ideal for sophisticated relaxation. The group retails around $4,500. Photo courtesy American Furniture Manufacturers Association
Other Backyard Project Ideas