Cabin Plans
Family Home Plans
Search our Cabin Home Plans collection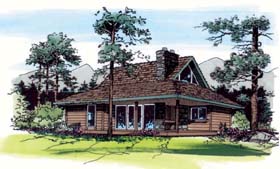 It's surprising how many people dream of one day having "a small cabin in the woods."  For many, a Cabin would seem to be the ultimate setting for peaceful living, whether as a primary residence or vacation home.  Although the Cabin's rustic nature is reminiscent of simpler times, today's Cabin is certainly not a place where one is required to "rough it."  Modern conveniences and luxurious amenities are enhanced by the warmth of natural wood tones and textures inside and out.  Whether you're looking to build a small weekend retreat, or a sizeable home, you'll always appreciate the honest, uncomplicated beauty of a Cabin.
Rustic appearance
Natural tones and textures
Comfortable, casual design
Many offer porches, fireplaces, and other modern conveniences.
Search our Small Cabin Plans collection
Home plan book featuring an exclusive collection of cabin and camp style designs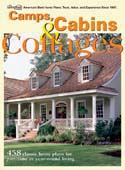 Camps, Cabins, and Cottage
Whether it's a full-time home or private retreat in the woods, on the lake, or in the mountains, it's here. With 458 home plans from the nation's masters of camp, cabin, and cottage home designs, this book speaks to America's long love affair with the haven and refuge only such a home can provide. With plans for vacation homes, retirement cottages, or investment properties, this house plan book covers the water- front with plans in all shapes, styles, and sizes.