ENERGY EFFICIENT DOORS
Family Home Plans
Beautiful and Cost-Effective doors for your new home construction.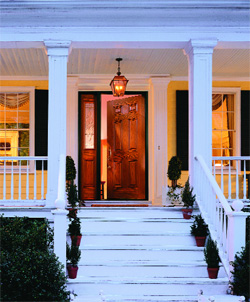 You and your family aren't the only things that go in and out of your front door. Every time you open it or close it, valuable energy goes out as well. Even when the door is shut, heat can still enter a cooled house in summer or escape from a heated house in winter. With this movement goes your hard-earned dollars. The way to slam the door on this loss is through energy-efficient doors.
When building a new home, there are many things to take into consideration; house plans, land, appliances, finishes (flooring, tile, countertops, paint), fixtures. . . the list doesn't seem to end. Usually, doors are near the bottom of the list of priorities.
Hinged doors are an elegant way to combat the energy loss caused by sliding patio doors. (Photo courtesy of Summit Window and Patio Door)
Yet an outside door has a lot of responsibility. It's the main means of passage in and out of the home and it's the home's main barrier against intruders, whether a cold north wind, the humid summer heat, or a burglar. To top it all off, the door also needs to be aesthetically pleasing and energy efficient. That's quite a job.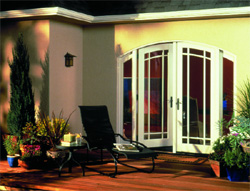 Your entry door can be simple, elegantly detailed, or somewhere in between. Decorative touches such as plants and light fixtures will add style to the exterior of your entry. (Photo courtesy of Summit Window and Patio Door)
Although appearance is generally the biggest factor in choosing a door, its ability to insulate should be right at the top as well. Many modern doors are insulated with a polyurethane foam core, which provides the best protection against energy loss. The weather-stripping, usually magnetic and similar to that on a refrigerator door, must fit snugly. Any gap between the door and the door jamb or threshold will cause energy loss. To judge the door's energy efficiency, look at its R-value, which is a measurement of resistance to heat gain and loss. The higher the R-value, the higher the resistance.
Think of steel and fiberglass doors and you might picture a large, gray, industrial door or a plain, fake-paneled door. But this door has aesthetic as well as practical appeal. Insulated sidelites and transoms add to the beauty without decreasing the energy efficiency. (Photo courtesy of Taylor Building Products, Inc.)
Types of Energy-Efficient Doors
Today doors come in wood, metal, and fiberglass, all of which have advantages and disadvantages. There's no doubt that real wood is classically beautiful, whether it's mahogany, pine, oak, cedar, fir, or some more exotic wood. Wood doors range in price from around $100 into the thousands for custom-made models.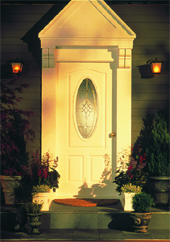 While solid wood doors may be sturdy, attractive and traditional, they often have a lower R-value than their counterparts. On the other hand, wood composite doors (a combination of wood and resins) are very weather resistant. They also allow insertion of an insulating core. Similarly, some insulating doors are covered with a thin veneer of hardwood plywood, which gives them the rich appearance of oak, teak, or whatever, yet provides energy efficiency and durability.
Your front door is the first impression your guests will get of your home. Make sure it gives the impression that you want to make. A full-pane double door is an ideal complement to a formal entry. (Photo courtesy of Therma Tru Doors)
The price tag on metal doors starts at about $150. If well made, metal doors are sturdy, secure, and well insulated. They also carry an R-value between 4.0 and 8.0 (5 times that of a solid-wood door). Most of these doors come in durable factory finishes or can be painted.
This hinged door offers almost as much viewing area as a sliding glass door, but much more energy efficiency. (Photo courtesy of Pella Corporation)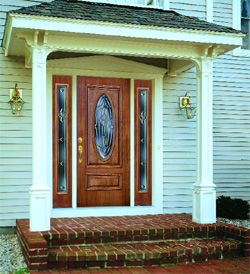 Fiberglass doors are known for their durability and are more resilient than metal when it comes to standing up against dents and dings and can also be filled with a foam insulation core that provides topnotch insulation. Some come with artificial wood-grain, which can be quite attractive. Others simply come with a smooth finish. Fiberglass doors are also quite strong. Most are made with a heavy wooden frame filled with foam insulation. And the better fiberglass doors are reinforced when there lockset is installed and where the hinges are attached. Prices range from $500 to more than $3,000.
Extra Protection
If you're happy with your new door but want a better barrier against the elements, you can buy a good storm door for about $150 to $250. A storm door gives extra protection against the weather, which helps if you have a solid wood door. A storm door also provides an extra layer of insulation, as long as it fits tightly in its opening.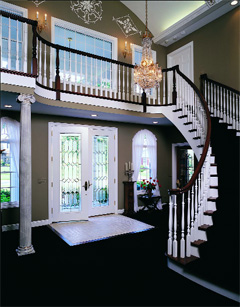 Storm doors can be attractive as well. With full- or half- length windows, they also provide ventilation control. Most storm doors come with removable or sliding screens and windows so you can adjust your door to the season. In fact, some doors even come with a built-in storage compartment so when the season changes, you can easily find the accessory you're seeking.