PLANNING YOUR DREAM BATHROOM
Family Home Plans
The best time to plan a bathroom is before you build it. That sounds obvious, but many people take it for granted that the bathrooms in their new homes will suit their needs. Problems with poorly designed bathrooms typically include lack of storage, poor lighting, and a poor floor plan that results in cramped placement of vanity, toilet, and tub or shower.
You want a beautiful and functional bath, a comforting, private retreat. You can hire a certified bathroom designer (check out www.nkba.org, the National Kitchen and Bath Association's website, to find a designer in your area) or you can work with the builder to design it yourself. Either way, start by knowing what you want.
If you know the rough dimensions of your bath, begin by drawing a basic plan, preferably one that's scaled. Now head to your local home center with a tape measure and notepad. Browse the bathroom fixtures aisle and note the dimensions of the fixtures, vanities, and cabinets you like the best (make sure you get the "rough-in" measurements of each fixture, which is the fixture plus the extra clearance it needs for plumbing—ask for help if you can't find this information). Armed with this intelligence, head home to your dining room table, lay out your plans, and start to work.
Search house plans online at Family Home Plans for a home design that matches your vision. You can make modifications to your new home plans to match your dream bath. This is substantially less expensive then drawing plans with an architect.
Personalize Your New Bath
In a lot of bathrooms, fixtures tend to be lined up along one wall, creating the feeling of being in a storage box. Try to think outside of this box. On a sheet of graph paper, draw to scale the fixtures and vanities you measured at the home center (your plan might have a quarter-inch equaling one foot), color each one a different color, and cut them out with scissors.
With your plan in hand, you're ready to start laying out your dream bathroom. It's important to note on the plan the location of windows, doors, ventilation fans, and air conditioning and heating registers.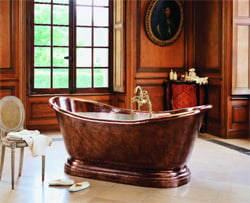 When planning your bathroom, give careful consideration to the size of the space and how it relates to the size and type of fixtures you want. Photography: Courtesy of Herbeau Creations
For discussion purposes, let's say your bathroom is 10 feet by 12 feet. You'll put the bath tub (standard is 60 inches long, 30 inches across, 18 inches high) against one wall and then start playing with placement of toilet, vanity, towel racks, and other cabinets. As you'll discover, fixtures take up a lot of room and their placement is no simple task given the limited space. The plumbing code will require that all fixtures be placed a certain minimum distance from the wall, which is the "rough-in" specifications you got at the home center.
Once the layout is set, there's the matter of finishes. Don't forget these in your budget because they're often among the most expensive elements in a bathroom. The single most expensive thing in your bath-room could be the countertops. If you're planning on a lot of countertop space and your tastes run to the luxurious, be sure and figure that into your budget (granite is more expensive than laminate).
Some of the options you'll be able to choose are relatively in-expensive. Laminate countertops are the cheapest choice, followed by certain types of tile, solid surface (like Corian and Swanstone), and, coming in just ahead of solid surface, real stone. Granite countertops can run upwards of $125 per square foot, even more for some particularly exotic models. Other kinds of specialty stone surfaces can run even more.
Flooring is the other finish that you need to keep in mind when budgeting. Price ranges cross the spectrum. From basic linoleum to laminate, tile, wood, and stone, costs can run from under $10 per square foot up to $100 or more, depending on the quality of the tile you choose.
Whatever kind of floor you pick, consider radiant floor heating, which is a heating system that's installed under the floor. It's a great idea for a bathroom—the floor stays warm and the heat gently rises to warm the whole room.
Under thinner floor surfaces, you can install a vinyl-coated electric grid that runs off of a 110-volt current. These are relatively inexpensive and easy to install.
Start Planning Your Dream
These illustrations show recommended clearances when planning placement of bathroom fixtures.