Saltbox Homes
Family Home Plans
Search our Saltbox House Plans collection
As a variation on the Colonial home, the Saltbox style came about as colonists added more living space to their homes.  Simply stated, the Saltbox home is a typical Colonial home with the roof extended down the back side of the home, covering a one-story addition at the rear.  As a result of these rear additions and long, sloping roofs, the side profile of these homes resembled salt containers that were in common use at the time.   Saltbox homes have an implied quality of "age" and they stand out in beautiful, stark relief to countryside landscapes.  Today's Saltbox homes are often painted in period colors to enhance their historic character.
Colonial style home with long, sloping rear roof line
Simpler details reflects historical styling
Often painted in historic "period" colors
Saltbox floor plans are usually symmetrical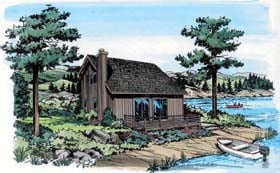 Perfect Saltbox for a Lakeside Home
This compact saltbox style vacation or retirement home packs a lot of living space into its modest square footage. The kitchen and living room are wide open for a spacious feeling when relaxing by the fire. The master bedroom enjoys privacy on the first floor while the second floor offers an additional bedroom and a loft area that can be converted to a third bedroom. There is a full bath on each floor for convenience and lots of windows or sliders to let the sun shine in. This colonial saltbox design comes with basement, crawl space or slab foundation options.
Search our Saltbox Home Plans collection