Southern Style Home Plans
Family Home Plans
Search our Southern Style House Plans collection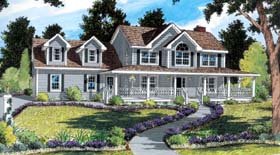 The Southern style home spans a broad spectrum of historic architectural styles and consequently, there is not one particular "look" that defines this category.  Southern homes can range from simpler "Low Country" designs with shed-roofed porches, to grand Plantation style structures with elaborate columns, sweeping staircases and decorative friezes.  No matter the size or style, the Southern style home has almost always included an outdoor living area, be it a covered porch, balcony, screened room or veranda.  These outdoor spaces, of course, grew out of the necessity to seek shade and fresh air in the days before air conditioning.
Historic and hospitable in appearance
Outdoor living spaces – porches, screened rooms, verandas, etc.
Southern floor plans are open allowing the breeze to move through the home
Styles range from simple to grand
Southern home designs although popular in the south are also built in the midwest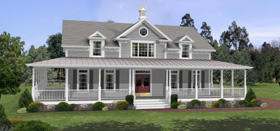 Popular Southern Home Plan #92465
This home design is what we choose to call an "Elegant Southern Country" style. This 1-½ story home is a simple southern design but becomes irresistible with its full-surround porch and symmetrical dormers. If you can bear to leave the delightful porch for a while to go inside, you'll find a somewhat contemporary design with lively angles, room brightening clerestory windows and spacious open areas.
This is a "master on main level" floor plan with lots of glass, an open family room, kitchen and eating area, and very little wasted space. Upstairs are 2 sizeable bedrooms and a loft. Bedroom 2 has a walk-in closet with a pass-through to attic storage and built-in bookcase. Bedroom 3 has a built-in desk and bookshelves. A special convenience is the laundry chute just outside bedroom 2.
The ceilings on the main level are 9' except for the clerestory areas above the master bedroom, family room, eating area and dining area which rise to approximately 18'. Upstairs ceilings are 8'. This southern house plans is one of our best selling plans.
Search our Southern Style Home Plans collection