THE KITCHEN SINK
Family Home Plans
Hard-Working and Durable, the Sink Can Also Be A Thing of Practical Beauty
By Harriet Reasoner
When I was growing up, the kitchen sink in my home was dark brown enameled steel. It chipped easily and, because it was thin, it was noisy. Not a great sink, but it probably fit my parents' budget. In those days, choices were few: enameled steel, cast-iron or stainless. How things change: Today the choices are so many that they're overwhelming–you don't just choose the sink material, but its style, type, color and bowl configuration.
This high-end farmhouse sink was carved from a single block of limestone. The manufacturer recommends that all stone sinks (or natural stone tiles and countertops) be sealed with a penetrating sealer. Even then, acidic liquids such as lemon juice or vinegar may etch the stone surface. (Photo compliments Walker Zanger)
Oh, and the sink has to accommodate the type of faucet you want, plus add-ons like sprayers and soap dispensers, so whichever sink you choose has to have enough cut-outs to accommodate the accessories.
Depending on your budget and your taste, a new kitchen sink can set you back anywhere from $50 to several thousand dollars. For instance, a low-end home center stainless-steel model can be yours for about $50, whereas a high-end stainless sink can cost more than $1,600. Get into more exotic materials, and the cost can go even higher. A one-of-a-kind hand-made copper sink (double bowl with backsplash, from Dino Rachiele, can cost about $4,000. A German Silver Sink Co. fixture can run $4,200 or more.
The more you know your taste and budget, the better decisions you'll be able to make when choosing your sink.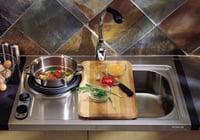 Here's something new and unusual, a sink/cook center combination. Made of 18-gauge stainless steel, it includes a standard sink plus includes an integrated cooking vessel for steaming, boiling, poaching and blanching. (Photo compliments Kohler Co.)
The Most Likely Suspects
Odds are, you're not in the market for a kitchen sink that costs as much as a semester in college. If you're like me, you want something that holds up to heavy use, looks good in your new kitchen, is easy to maintain and doesn't cost a small fortune. Fortunately, there are lots of good sinks out there that fit several or all of those criteria. You just have to choose the type that's right for you.
Stainless Steel: Stick with High Quality
If put to a vote, stainless steel sinks would top the popularity list, followed by solid surface (Corian, etc.) and composite sinks, with cast-iron coming in third. The reason that stainless sinks are so popular is that they're affordable, durable and work well when mounted under the countertop (called an undermount sink).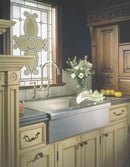 Here's an interesting
variation on the farmhouse –or "apron-front"–sink, a high-grade stainless-steel version.(Photo compliments
Franke)
Bryan Farrow, with Kitchen Designers Inc. in Marietta, Georgia, says his clients use undermounted stainless steel sinks "because the majority of countertops are granite and most people are using good-quality stainless steel undermount sinks because you need the rim strength to give extra strength. Everything's held to the countertop by the rim. In fact, most of the inexpensive sinks don't even come as undermounts."
When it comes to choosing a stainless steel sink, you want to look at several things. Look for the highest-grade stainless, which is known as Type 302 (18/8). This kind of steel contains 18% chromium and 8% nickel for a really durable, rust-resistant finish.
You also want to look at the gauge, or thickness, of the stainless steel sink, because a thicker sink is less likely to dent than a thinner sink, plus the thicker sink won't be as noisy as the thinner, tinnier one. So when you're looking at the gauge, just remember that the lower the gauge number, the thicker the steel. While most sinks come in 18 to 20 gauge, sinks in 14 and 16 gauge steel are available on the high end, as well as 24 gauge on the lower end.
Although stainless sinks of the past were quite noisy–even the expensive ones–improvements in sound deadening technology have virtually eliminated the noise problem. Now, all but ultra-cheap stainless-steel sinks are sold with a factory applied undercoating that greatly reduces the sound of pots, pans, dishes and silverware banging against the sides of the sink.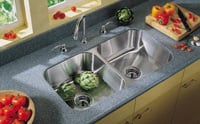 This two-bowl undermount stainless-steel sink is one of the most popular sink types installed in new homes today. Good stainless steel, such as this 18-gauge stainless, resists dents and staining and its heavy undercoating reduces noise. (Photo courtesy Kohler Co.)
Solid Surface: The Seamless Material
In popularity, solid surface sinks rank in second place. And when it comes to solid surface materials, most people think of DuPont's Corian, which is the oldest (having debuted in 1969) of the non-porous, acrylic brands used in creating countertops and integral sinks. But other solid surface manufacturers include Gibraltar, Avonite, Surell, Swanstone, Fountainhead, and Wilsonart.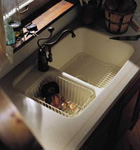 The beauty of a solid-surface sink is that it's fused with the solid-surface countertop to form one seamless piece, which means easy cleanup and low maintenance. (Photo courtesy Corian)
A huge benefit of an integral solid surface sink is that it's pretty much seamlessly joined to the solid surface countertop, which means no little crevices for moisture and grime to build up.
Amy Sussek,a kitchen designer and one of the hosts of AsktheKitchenDesigner.com,
suggests to her clients that, if they want a solid surface countertop with an undermounted sink, they get an integral solid surface sink as well.
" If you do use an undermount sink, the (solid surface) fabricator charges a couple hundred dollars to do the sink cut-out, then you still have the price of the sink to consider," according to Sussek.
"If it's an integral sink (basically a one-piece, solid-surface sink-countertop combination), you don't have that extra cost, just the cost of the sink added to the cost of the counter."
Sussek says that integral solid surface sinks are at the top of her clients' lists and many choose Swanstone. "It's easier to take better care of the Swanstone sink. You clean with Ajax and a Scotchbrite pad. One client has one that still looks good after five years."
"A huge benefit of an integral solid surface sink is that it's seamlessly joined to the solid surface countertop, which means no little crevices for moisture and grime to build up."
Farrow also likes solid surface sinks, especially Corian. "Corian is a great product. You can do anything you want with solid surfacing material. What you get is only limited by your imagination."
Cast-iron: The Heavy Standard
A perennial kitchen favorite going back to the 19th century is the porcelain-coated cast-iron sink. Although it's still a great value, it's mostly relegated to use in kitchens that use laminate or some other type of countertop that requires a so-called drop-in sink (as opposed to undermounted or surface-mounted).
I've always been partial to big, heavy cast-iron kitchen sinks despite their drawbacks. In my opinion, they have no match when it comes to depth of color and beauty of finish. I also like the solid, substantial feel I get from cast-iron. And the thickness and density of the cast-iron makes it very quiet to use, which is something I appreciate.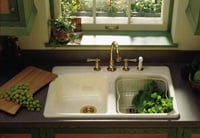 This classic two-bowl cast-iron sink comes from the factory with an unsurpassed gleaming finish and a deep, rich color. When choosing cast-iron, don't skimp; buy from a quality manufacturer. (Photo courtesy Kohler Co.)
Cast-iron does have its critics. Some homeowners have complained that the porcelain coating over modern cast-iron sinks chips more easily than it used to, because, they say, the sinks aren't made as well as they once were. However, the porcelain coating will chip on even the best and most expensive cast-iron sink if you're not careful–just like a Rolls Royce will dent if you carelessly back over the neighbor's mailbox.
I haven't found excessive chipping to be a problem with my sink, although I do take care to avoid chipping. I use a plastic-coated wire rack on the bottom of each bowl and I'm careful when washing heavy pots to avoid banging them against the sides of the bowl.
Both kitchen designers and plumbers recommend that you stick with name-brand manufacturers when you buy a cast-iron sink. And before it's installed, make sure to check it for chips, especially around the rim, which is subject to regular contact with water.
What Else Is Out There?
From high-end to low-end, the world is full of other types of sinks. At the least-expensive level, there are enameled steel sinks, which, thanks to heavy spray-on undercoatings, perform much like cast-iron sinks but at a much lower price.
Composite sinks are another type on the market that are giving the solid surface sinks a run for their money.
Composites are often made from quartz or granite mixed with an acrylic binder. These sinks are fairly hard, scratch resistant and good values for the money.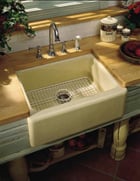 This beautiful fireclay sink is durable and actually has a harder surface than even porcelain-coated cast-iron, which means it's less likely to chip. The apron sink style requires strong support and careful detailing to avoid water damage, especially in this application where it's surrounded by wood. (Photo courtesy Kohler Co.)
On the high end are a gamut of sink types from fireclay to copper to soapstone to, believe it or not, carved granite. It's probably unnecessary to remind you of this, but anything out of the ordinary–especially anything hand made or created custom or in small quantities–costs more than the mass-produced sinks you'll find at home centers and kitchen and bath shops.
Margaret Clarkson, a kitchen designer at Walker Zanger Inc. in Atlanta, sells an imported limestone farmhouse sink that's carved from a solid block of limestone.
"Our business is tile and stone," she said. "And this sink, which retails for $2,400, is absolutely beautiful." Needless to say, they "appeal to the high-end user," according to Clarkson.
Other high-end types of kitchen sinks include soapstone, marble, fireclay, copper and German silver, which is a copper, nickel and zinc composite.
One of the more popular and at the same time traditional high-end sink is soapstone, which is created by joining slabs of soapstone with epoxy to form the sink basin. One complaint about soapstone is that the bottom of the sink is so perfectly flat that anything on the bottom of the sink such as like crumbs must be manually swept toward the drain. Otherwise, it's a beautiful material and ages gracefully.
Relatively new on the scene are so-called composite sinks like this undermount sink made of Silacron, which is 70% quartz and so very resistant to scratches and stains and is heat resistant up to 446 degrees. This model includes a waste-chute system accessory, a large bowl and a smaller prep-sink bowl. (Photo compliments of Blanco America)
Fireclay sinks, which have probably been around longer than even cast-iron, are one the newest trends in kitchen fixtures. Made by pouring liquid clay into a mold, then removed form the mold and sponged to a slick finish, fireclay sinks are then allowed to air dry. Later they're sprayed with a ceramic finish and fired in a kiln. Fireclay is very hard and durable and reportedly doesn't chip nearly as easily as cast-iron. It can be pricey, though, costing hundreds of dollars or more depending on the finish and any decoration.
Keep in mind, though, that many of these high-end sinks require wall-mounted faucets, which are expensive and often hard to find in just the style you want for your kitchen.
Bowls and Holes
Bryan Farrow says that most of the sinks his firm installs are "double-bowl, but big bowl-little bowl-often one decent size bowl and a bigger bowl. Most kitchens have that type or two sinks. They'll come in with a vegetable or prep sink, often on an island."
Amy Sussek says her clients like "deeper bowls–and two different size bowls at that."
Brookwood Kitchens' Thomas Caswell says his Atlanta clients are "always looking for something new and different" when it comes to kitchen sinks. "We're doing a triple-bowl stainless right now. Most of our kitchens have two sinks: the main sink and a smaller sink on an island, which is sometimes a full-size single-bowl sink."
Fraser, Colorado, kitchen designer Jim Barna says his firm is "doing a lot of two-sink kitchens that include a vegetable prep sink on an island. These island sinks tend to be smaller, 15 in. by 15 in., as opposed to the 3 ft. by 2 ft. deep main sink, which people want for big pots."
"It's important to know the kind of faucet and other features you want before buying a sink."
Cutouts are the holes created in the rear of the sink to accommodate faucets, sprayers and soap dispensers. Some sinks, such as undermounts, don't need cutouts. Others, like the large farm sinks, require wall-mounted faucets, so they also don't need cutouts.
Most ordinary sinks come with cutouts, but it's important to know the kind of faucet and other features you want before buying a sink–unless you fall so madly in love with a sink that has four cutouts that you're willing to fill the holes with just anything.
Some sinks come with only one cutout; these are for the newer all-in-one faucets that contain hot and cold controls as well as a pull-out sprayer.
According to Barna, most homeowners are "moving away from the huge number of hole cutouts. Grohe has one-hole faucet that has a number of different functions. No separate hole for hot, no separate hole for cold and no separate hole for spray arm."
Three Ways to Mount A Sink
1. Undermounted

The most popular method of mounting a kitchen sink today is undermounted, which means the sink literally is mounted beneath the counter. An advantage to undermounting is that crumbs and food trash simply can be swept into the sink. A disadvantage is expense: Most undermount sinks are a bit costlier than comparable drop-in or surface-mounted sink.
2. Drop-in

This is the traditional way of mounting a sink in which the sink is literally dropped into the cut-out in the countertop. Drop-in sinks are often cast-iron and are ringed by a large, raised lip, which rests on the countertop surface. An advantage to drop-ins is that they're preferable for use with laminate countertops, which aren't suitable for undermounted sinks because of potential water damage to the laminate substrate.
3. Surface-Mounted

Although very popular in past decades, the surface-mounted sink is probably one of the least popular sink installations today, especially since the rise of the undermounted sink. The surface-mounted sink comes with a metal rim that attaches to the countertop. The sink is then attached to the rim using screws. Although it's nearly flush with the countertop, a standard complaint is that grime and moisture get trapped on both sides of the metal rim.