Tudor Style Homes
Family Home Plans
Search our Tudor Style Homes collection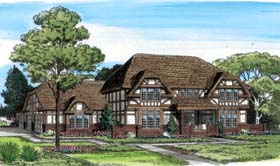 Tudor style homes exude a captivating combination of medieval character, warmth and charm.  Characterized by steep sloping roofs, stucco-clad gables, half-timber detailing, multi-paned windows and brick siding, this English-born style became popular in America in the 1890's and continued to flourish until about 1940.   Many of the original Tudor neighborhoods have been well preserved, and to this day, the style is a favorite among fans of architecture.  Tudor homes can range from small to quite large and generally offer more than one level of living space.  Single-story Tudors, however, are not uncommon.
Medieval character and charm
Steep rooflines with stucco-clad gables
Stone, brick and half-timber detailing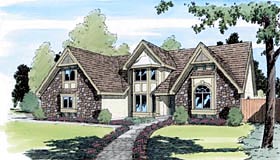 English Tudor Home Plan # 20173
The Tudor Style Touch
The peaked roofline and dormered pavilion of this Tudor design creates regal exterior effects. The interior (2,511 sq. ft. Tudor floor plan) conveys elegance via formal foyer, dining and living rooms. The open hearth room (with built-in desk and deck access) is laid back. A central island punctuates the casual kitchen. The main-floor master bedroom is crowned by a vaulted ceiling, and features two walk-in closets, and master bath with spa-style tub, dual sinks. Upstairs, bedroom #2 boasts a beautiful geometric window and front-yard view. Bedroom #3 enjoys the back-yard vista. Optional bedroom #4 creates a tranquil study. The shared bathroom has a skylight. Two-car garage offers extra storage.
Search our Tudor Style Homes collection