Vacation Style Home Plans
Family Home Plans
Search our Vacation House Plans collection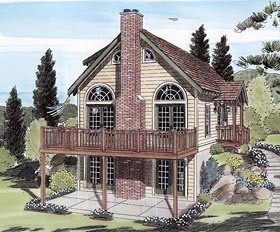 The term "Vacation Home" encompasses a number of styles of architecture, including A-Frames, Cabins, Cottages and more.   Perhaps the most common attribute of the Vacation Home is its provision of great views and comfortable outdoor living spaces.  Large, plentiful windows often face the most scenic views.   Sprawling decks, covered porches, screened rooms, courtyards and verandas provide relaxed settings in which to enjoy The Great Outdoors – all within a few steps of the comforts of home.  The vacation home floor plans range in size from small weekend cabins, to sizeable homes capable of accommodating multiple families.
Relaxed architectural character
Large, abundant windows for optimizing views from the inside
Outdoor living spaces – decks, screened rooms, courtyards, etc.
Smaller floor plans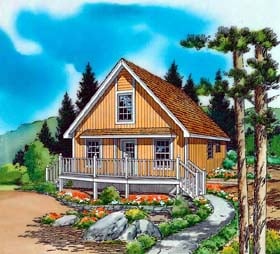 Simple and Practical Vacation Style Home Plan #35009
This home epitomizes simplicity and practicality. The U-shaped kitchen is efficient in layout. There is ample storage and counter space as well as a dining area. The living room is open to the kitchen/dining room and includes an entertainment center that is built-in. The bedroom is of a nice size and has a large closet. If you would like to expand in the future, there is a loft that overlooks the kitchen and living room. This home plan makes a great second home for retreats or vacation getaways.
Search our Vacation Home Plans collection