Victorian Style Homes
Family Home Plans
Search our Victorian Home Plans collection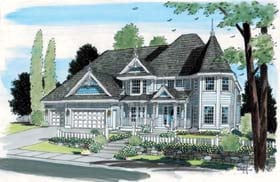 Victorian homes are commonly thought of as an architectural style, but in actuality, they reflect of a period of history from 1840 to 1904, when Queen Victoria ruled Britain.  During that time, which coincided with the Industrial Age, a wide variety of ornately fashioned homes became immensely popular and provided new and exciting features on the architectural landscape.  Intricate detailing, complex wall angles, multifaceted roofs and elaborate turrets are among the myriad of design elements that will be found within realm of Victorian homes.   Style variations within this classification include Queen Anne, Gothic Revival, Second Empire, Victorian Eclectic, Shingle and more.
Historic, charming appearance
Ornate detailing and color schemes
Multi-faceted rooflines, complex wall angles, elaborate turrets
Victorian floor plans range widely in square footage
Victorian home designs are popular nationwide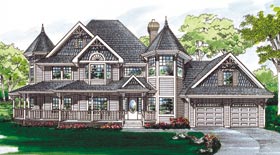 Popular Victorian Style Home Plan#55010
This 2632 square feet Victorian farm style with 4 bedrooms and 2.5 bathrooms has a 2 car garage and falls in the 2500-3000 square foot range. It contains many elements from the Victorian era of architecture.
The floor plan of this popular Victorian farmhouse features a wrap around porch, upstairs master bedroom and is suited for view lot. Other features include: kitchen island, walk-in closet, master sitting area, family room/keeping room, nook / breakfast area, den/office/study/computer, open floor plans, and walk-in pantry/cabinet pantry.
Search our Victorian House Plans collection