BATHROOM MIRRORS
Family Home Plans
Looking Good Never Looked So Good
By Reggie VanNostrand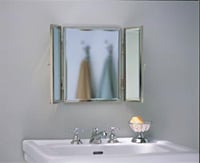 For nearly as long as there have been faces, there have been mirrors–of one type or another.
Our first ancestors saw their reflections in calm pools of water. Later, they hammered metal smooth enough to reflect their faces (the Bible even mentions mirrors of brass). The Romans and Greeks viewed themselves in discs of polished silver. But it wasn't until the Renaissance that glass first got crafted into a mirror that could reflect clearly enough for people to really get a good look at themselves.
Made of nickel-plated brass, the three-way "Bistro" wall mirror could be a bathroom's main mirror or something that folds up and tucks out of the way for occasions when you need to see more than just your face–say the length of sideburns. (Photo Compliments Restoration Hardware)
The mirror-making process has changed a great deal since the days when a woman could blame her own poor complexion on the poor mirror quality of her mirror. Today, even inexpensive mirrors provide good, clear reflections. In other words, you can't blame the mirror anymore.
Today, mirrors are everywhere in the home. They're used as decorations, or to reflect great window views, or they're strategically placed to make a small room appear larger than it really is. In bedrooms and dressing rooms, full-length mirrors allow us to see how we look from head to toe.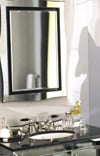 Like seeing your face framed in an art gallery, this elegantly curved bathroom cabinet possesses all the style and grace needed to be right at home in a penthouse bathroom or in a suburban ranch home. (Photo compliments Kallista/Kohler Co.)
But it's in the bathroom that the mirror performs its most critical task. It gives us a clear, close-up look at ourselves. In the morning, when we walk in fresh out of bed, it shows us at our perceived worst. After showering, shaving, makeup, it shows us at our best. Without a good bathroom mirror, we'd all be a bit self conscious about showing ourselves to the world every morning.
What's the Difference?
So what makes one bathroom mirror better than another? Is it the mirror itself, the size of the mirror, the cabinet it's set into, or the lights that surround it? Well, it's some of all those things.
To a large degree, the best bathroom mirror for you is the bathroom mirror you like. The style fits with the décor of your bathroom and it suits your taste–and your budget.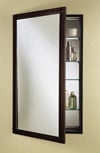 Solid and well-made, this Barbara Barry-designed medicine cabinet is both stylish, visually appealing and practical. With its 4-in. depth in a recessed cabinet that's 23 3/8 in. wide by 38 5/8 in. tall, the mirrored medicine cabinet provides ample storage for toiletries and cosmetics. (Photo compliments Kallista/Kohler Co.)
Experts in Feng Shui (the ancient Chinese art of design and layout, pronounced fung schway) caution that you should install the biggest mirror that your bathroom can hold. A small mirror means a small future and vice versa, they say. But if you put aside the spiritual implications of mirror size and focus on the mirror's purpose, you realize there's a good, practical reason for a big mirror: It gives you a better view of you.
The Three Types of Bathroom Mirrors
Three basic types of mirrors are common in the bathroom. There's the fixed mirror, which is often set into the door of a built-in medicine cabinet. There's the hanging wall mirror which, as the name implies, simply hangs on the wall. And there's the mirror that moves–whether it telescopes outward from a wall mount, swings in or out, or pivots up or down.
Fixed mirrors are usually part of an ordinary metal, built-in medicine cabinet, the kind most of us grew up with. The truth is, they're basic, utilitarian mirrors that work just fine, though they're far from stylish.

This handsome, recessed medicine cabinet has been installed between studs to allow the mirrored door to close flush with the wall. (Photo compliments Kallista/Kohler Co.)
New, modern fixed-mirror medicine cabinets are available now, though, that put these old clunkers to shame. They come with heavy mirrors and sturdy, stylish cabinets. The better cabinets are made of heavy-duty aluminum rather than non-rustproof steel, so they hold up better and look better.
Other new cabinets on the market are made of fine wood such as beech or mahogany. Of course, if you want something completely different, find an architectural salvage store and buy an old wooden medicine cabinet, which often will come with a heavy beveled mirror. Often you can buy them already refinished, but because these are relatively small projects, you should be able to refinish them yourself. Just remember to remove the mirror first so you don't damage the coating on the mirror back.
But if your budget can stand the shock, check out the new generation of mirrored medicine cabinets. Styles are available that fit virtually any décor.
Hanging mirrors. When it comes to hanging mirrors, the sky's the limit. If you don't need the storage space provided by a traditional mirrored-door medicine cabinet, nearly any mirror that strikes your fancy is fair game for hanging above the bathroom sink.

When it comes to hanging mirrors, the sky's the limit, allowing you to match any décor. This elegant mirror is a perfect compliment to a clean, traditional look. (Photo compliments Herbeau Creations)
Just remember, however, that depending on the moisture level in your bath, the material should be able to stand up to all that expected humidity. My wife, for instance, bought a handmade Mexican mirror made of ceramic tiles and tin. After a few months in our bathroom, the tiles had held up just fine, but the tin looked like it had spent time under water. The point is, remember that materials used in the bathroom have to be made to hold up to wet, damp conditions.
Movable mirrors. You often find movable mirrors in nicer hotels: They're fixed to the wall and either swivel out, fold out or extend on a flexible metal arm of some type.
But movable mirrors aren't just made for the luxury hotel market, lots of different models are available for the home, including some new types you might not have seen before.

Handsomely styled in the Edwardian manner, this nickel-plated brass framed mirror has ceramic fittings and tilts up to 10 degrees away from the wall for a good clear look. (Photo compliments Restoration Hardware)
Many of these mirrors are on the expensive side, but the ones I've seen are well made and should give years of trouble-free service.
Movable bathroom mirrors have been around for awhile, but a couple of newcomers on the market take design, materials and style a step further. Made with high-quality, heavy mirrored glass, these new movable designs are beautiful enough for the most stylish, elegant bathroom, and sturdy enough for even men and kids to use on a daily basis. Heavy-duty hinges, pivot points, latches and hardware are made to last. Frames are created from rust-proof metals like nickel-plated brass or even silver.