CHOOSING A BATHROOM SINK
Family Home Plans
Years ago, choosing a bathroom sink meant choosing between cast iron or vitreous china. But take a look at today's bathroom sinks. They come in fired clay, brass, copper, stainless steel, marble, granite, soapstone, glass, nickel, solid-surface materials like Corian, and composite materials made of ground stone and polymer. These sinks also come in interesting new shapes, colors, and designs.
Also unlike years ago, when you build a new home today, you often need to consider fixtures for more than one bath. Usually you need one for the children's bath, a couple for the master bath, and one for the powder room—each often requiring a different look.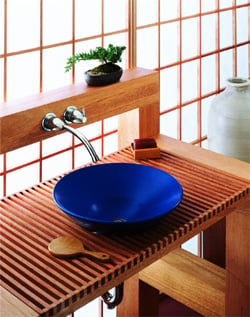 Clean lines and clear functions define this modern pedestal sink, which comes in a variety of soft pastels and gray-tones and offers cutouts for either a single-level faucet or a standard three-hold faucet set. Photography: Courtesy of Kohler
Before heading out to the showroom, it's good to have a bit of background. Most bathroom sinks fit into a hole in the vanity countertop, whether the sink is self-rimming, tile-in, or integral. A new addition to the repertory is the vanity-top sink, which rests on the top of the vanity like a bowl. Modern pedestal sinks expand your choices even more. Take a copy of your house plans with you if you are buying for new construction and this will help with ideas.
Self-rimming sinks come in two varieties, undermount and drop-in. Each usually contains one to three holes for the faucets and spout, a bottom drain, and an overflow drain. Under-mounted sinks may require that faucets be set into the counter-top, rather than fitted into cutouts in the sink.
Tile-in sinks are a cross between drop-in and under-mount—they sit flush with the vanity top. These offer the maximum in streamlined, easy-to-clean lavatories, although installation is more expensive. Tile-in sinks require that faucets be attached to the countertop.
Vanity-top sinks are fairly recent introductions. You've seen them in catalogs and magazines, where they often show up in modern, stylish bathrooms. These sinks are basically large bowls that seem to have been set down on the countertop, though they're anchored by the drain. Just remember a couple of points about these elegant fixtures. First, they're a bit more difficult to clean because you're reaching under and around. Second, faucets for vanity-top sinks are often wall mounted, which requires that the spout reaches over and into the sink. Another point to remember is that vanity-top sinks contain no overflow drain.
Crafted of heavy 20-gauge stainless steel, this undermount lavatory sink will wear beautifully for years. The oval shape allows it to be used in a variety of spaces, including tight fits. Photography: Courtesy of Kohler
The pedestal sink has been around for decades but has been through a stylistic makeover in recent years. Although pedestal sinks are good choices for small bathrooms, they're not for people who need lots of counter-top or cabinet space for storage.
Because bathroom sinks come in a great assortment of materials, colors, and styles, it goes without saying that prices vary accordingly—from under $50 for a basic porcelain-coated steel sink to thousands for an expensive French-ceramic sink, a one-of-a-kind hand-thrown and hand-painted sink, or a so-called art-piece sink made of glass or hand crafted out of metal like silver, gold, or copper.
Before spending your money, think about the type of use the sink will get. In the master bath, you might want a beautiful, stylish sink, but you also want to make sure that maintenance won't become a burden.
Depending on the material, some sinks are fairly fragile and might even stain. The best choices may be one of the new, stainless-steel undermounts, a cast-iron sink with a color finish, or a durable fireclay sink, which has a beautiful patina.
For the kids' bath, a heavy-duty cast-iron sink or a durable—and repairable—solid-surface or composite sink may be the most practical.
If you have your heart set on one of those artistic, high-end bathroom sinks, the guest powder room is one bath where you can let your imagination go a bit wild. Because these see only occasional use, you can choose something like a glass vanity-top sink or a beautiful hand-painted original.