Garage Apartment Floor Plans….The Carriage House
Family Home Plans
Search our entire collection of Garage Apartment Plans.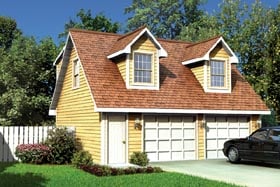 There are countless types of construction projects that are fashionable with today's homeowners, but one in particular stands alone – literally. It's the detached garage with an upper-level apartment floor plan.
For an array of reasons, detached garage designs are experiencing resurgence in popularity. In reviewing the countless options of available sizes and styles for detached two and three-car garages, many people are discovering the practicality of garages that would also include functional living spaces up above their vehicles.
Sometimes referred to as Carriage House Plans, garage apartment designs can serve a multitude of purposes. For example, many parents of older teenagers or college-age children have found these detached living spaces can offer some level of privacy for all, while allowing mom and dad to keep a "close eye" on the children. Others have found garage apartments to provide the ideal accommodations for overnight guests and friends, or to even function well as mother-in-law suites. Hobby studios, out-of-the-home offices, rental apartments and just plain "getaway spaces" are also among the other popular options that are being utilized.
My sister recently built a detached garage apartment behind the home she recently purchased in Greer SC. Her sole purpose for the project is to utilize it as guest space when my other siblings and I visit. This upper-level living area above the garage will have all of the amenities of a home – kitchen, bathroom, bedroom, and a sitting area.
I will review a few of our most popular 2 and 3-car garage plans, to provide some examples of the types of garages people are currently buying and building. We've also provided links at the top and bottom of this page for you to view the other 90 detached garage designs that are available.
2-Car Garage Plans.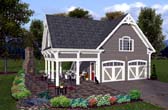 The Charleston Apartment Over Garage Plan # 74803 is a two car garage with 792 sq. ft. of living quarters above the parking space. With a lap siding exterior and decorative trim details, this plan is reminiscent of a country barn. It would be perfect temporary quarters during construction of your permanent home. Or it could serve as an in-law apartment, nanny quarters, college student apartment, etc. This design features an eat-in kitchen area, a spacious family room, a bathroom and a bedroom with both a clothes closet and storage closet. Two more closets, as well as an oversized pantry, provide maximum storage in minimum space. Laundry appliances could be positioned in the garage adjacent to the mechanical area. A shady covered porch is perfect for relaxing with friends. We have shown an outdoor fireplace in our rendering to help you plan your recreational space.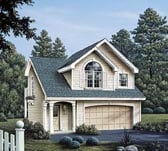 Garage Apartment Plan 86903
This is an ideal 2 car plan with lots of attractive features. With 628 sq. ft. of total heated living space, it makes for a fantastic little apartment. The one bedroom, one bathroom floor plan provides ample living space and has well proportioned rooms. The living room is 11 feet by 12 feet in size, and is complete with a welcoming fireplace. The garage designer also took good care of providing a generous amount of natural light. The deck off the back is great for grilling or relaxing in the fresh air. No wonder this is our best selling garage plan in this category. Please be aware that the garage floor plan is quite narrow at 20′-4″. This could make for a tight fit for two large vehicles.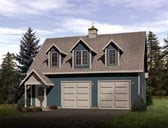 Garage Apartment Plan 49025
This Traditional style two car garage design with three dormers across the front and two 8-foot-high garage doors is sure to please. The floor plan features one bedroom, bath with stand-up shower, sitting room and a kitchen complete with an island workspace. The large dormer in the center of the floor plan can accommodate a compact office area or work desk with chair. Generous storage space is available across the back of the plan with a coat closet, pantry, and linen closet. It is possible to move the stairs to the outside of the garage plan to increase the total living space if required. Our modification team will be glad to provide an estimate for any changes that might come to mind.
3-Car Garage Designs
Garage Apartment Plan 58569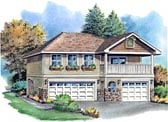 This Traditional style garage design features a 3 car garage and a magnificent covered porch. An impressive floor plan includes two bedrooms, 1½ baths, a kitchen, dining area, and a great room with sliding glass doors onto the covered deck. It should be noted that at 28-feet-deep, the third stall offers sufficient space for either a work bench at the rear, or a fishing boat with trailer. At 877 sq. ft., few garage apartments have ever looked so good. That's why this plan is "selling like hotcakes."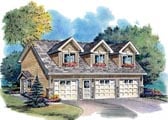 Garage Apartment Plan 58568
This plan features a three-stall garage design with three well-proportioned dormers across its front facade. Two large bedrooms, each with its own bath, balance the layout of this floor plan. The U-shaped kitchen, complete with an eating bar and dining area, is open to the great room, making this design appear much larger then its 920 square feet.
The master suite has a full bath with walk-in closet, which is an unexpected bonus in garage apartments.
Please Note:
Our detached garage apartment plans are available in one, two, or three car versions and generally range from about 300 to over 1,000 square feet in size. Modifications can be made to match the garage plan of choice, to almost any home style. Our modification team can even add dormers to provide additional daylight to living spaces. Click here to search our entire Apartment over Garage Plans collection.
Other popular uses for a garage with living space above are:
Rental space for additional income
In-law suite
Office space or home office (tax write off)
Additional space for growing families
Common characteristics of an apartment over garage design
Available in one, two, or three car versions
Can match most any home style
Dormers on roof provide light to living space above garage
Square footage can range from 300 to over 1,000 square feet
Search our entire Apartment over Garage Plans collection.