CASITAS – DESIGN AND DIVERSITY
Family Home Plans
Diversity becomes an important ingredient of any well-designed home plan.  Although many of us find the same homes attractive, there are always subtle differences in our personal requirements.  Addressing these unique concerns often involves approaching the design with a different perspective.  In doing so, I often find that diversity itself can offer solutions that allow our homes to adapt as our lives evolve.
A Casita certainly can be considered such a flexible and adaptable space.
The original definition of a casita referred to small, crude shanties for laborers in the Southwest.  In recent years, the term has been used to describe living quarters detached from the main home.  These often-luxurious accommodations have recently been utilized as guest quarters.  With a private bathroom and separate entrance, privacy is maintained for both the guest and the homeowner.  In fact, be careful how comfortable you furnish and decorate the area, or you may find your guests overstay their welcome!
While casitas become ideal guest lodging for some homeowners, it's interesting just how diverse and adaptable these areas really are.  For a family with teenagers, the casita can serve as a game area that affords privacy for them and the parents.  As with any teenage recreation area, the ability to monitor activities becomes essential.  However, as mentioned when discussing game rooms, teenagers require a certain amount of perceived privacy.  It's always better to have them close by than in unknown locations.  Although they'll be thrilled to be in a "separate" building, you'll easily be able to monitor the situation.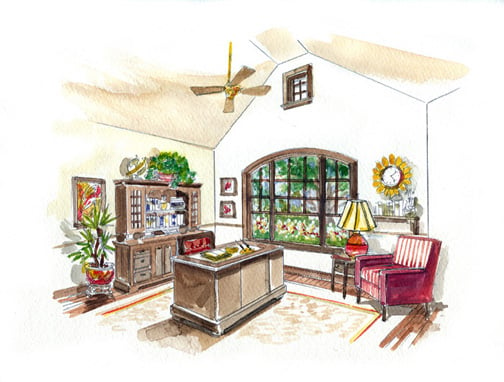 A casita becomes the ideal home office, with a private entrance for clients and business associates. This secluded area can also easily be transformed into a favorite hang out for your teenagers and their friends.  Even though they will feel as though they're away from the adults, you can easily monitor the activities. Plan Number: 56542
As the children eventually leave home, the casita can transform into that art studio you've always wanted.  Or, perhaps you finally have a secluded place to indulge your scrap-booking hobby.  Maybe the idea of simply having a retreat "away" from the house is appealing.  Of course, one of the children might end up back at home after college.  At that point, their schedules certainly won't coincide with yours!  Everyone will be much happier with the privacy and seclusion the casita offers.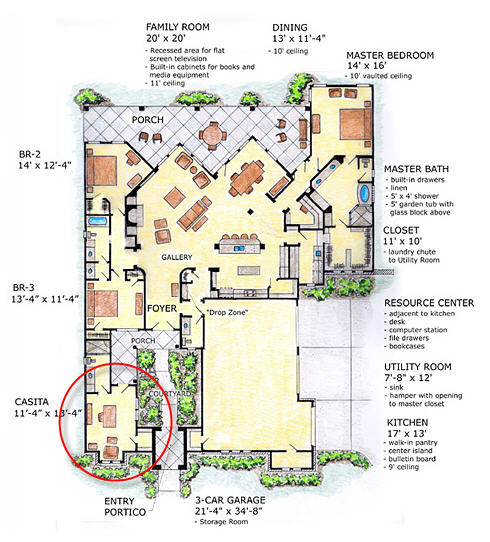 Casitas provide uniquely flexible areas just waiting to respond to the diversity of each homeowner's lifestyle.  For some, it's the ideal guest suite.  Perhaps you have an older child returning home to stay for a while.  Of course, the secluded area can serve as an "office" where you actually leave your work behind each and make the short walk across the courtyard to your home Plan Number: 56540
For many of us, the prospect of assuming the care of our parents becomes a real possibility.  I've often had clients ask me to design a living quarters over their garage for possible future use by a parent.  I must always remind them that, unfortunately, in the event one of their parents needs to live with them, it will most likely be a situation where the parent will not be able to climb the stairs.  It's just hard for most of us to even consider that when we're all young and healthy.  The casita offers a perfect solution.  With this use in mind, it makes sense to pay attention to universal design .  Be sure the doors are wide enough and the bathroom is spacious.  While the other details really just make good sense, they could be added when the need arises.
A growing number of individuals are finding the opportunity to work from their homes.  While you might think this typically refers to an age group on the verge of retirement, that's not necessarily the case.  Many companies, both large and small, have discovered the advantages of allowing employees to at least spend a few days of the week working at home.  Most of these "homebound" workers rely on the Internet and overnight delivery services to accomplish their tasks.  Some, however, must still interact on occasion with clients and coworkers in their home office.  This concern for potentially compromising your family's privacy with such visitors, along with the challenge of never being able to "leave" your work requires some serious consideration.
Once again, the casita proves to be an adaptable space.  For anyone who has ever worked at home in their study, you know both the advantages and the disadvantages of such an arrangement.  While it's always convenient to get some work done, that very "convenience" often becomes the reason some individuals finally change the at-home work situation.  It's just simply too difficult for many people to leave their work at the office when the "office" is in the next room.  The simple fact that a casita forces you to walk out the front door and down a covered walk to enter your office has a profound effect.  The experience really becomes an act of "going to work."  Another advantage becomes the privacy during the workday.  Small children just don't understand why daddy or mommy can't pay attention to them.  After all, you're right there at home!  Even younger children quickly understand the concept of your office being in the "next building."
While casitas have traditionally been designed and built only with larger homes, you'll now find them included in smaller square footage designs.  The courtyard area created by these layouts offers a private outdoor living space.  Unfortunately, people often ignore the importance of professional landscaping.  While these courtyards can become absolutely amazing and functional outdoor living areas, without proper landscaping and drainage, they can just as easily become real eyesores.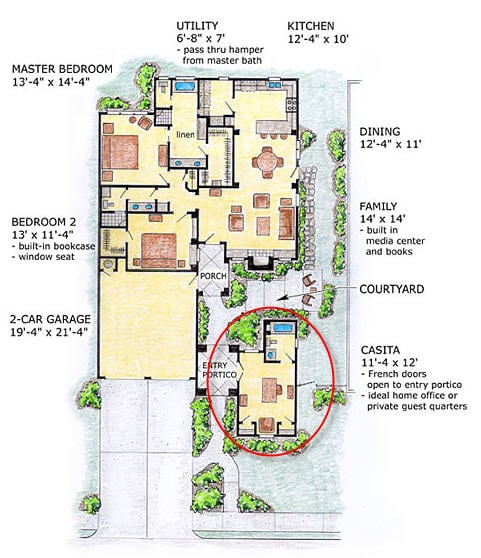 Even with smaller homes a casita becomes a flexible space.  For elderly homeowners, these private quarters might be used for a live-in caretaker.  For some, the area becomes a seclude retreat overlooking a private courtyard. Plan Number: 56510
Finally, make sure to address the question of air conditioning with your builder.  Either a separate system, or a least a "zoned system" that allows an individual thermostat will be essential.  Not only will you want the individual control, there may also be times when the casita is not occupied.
The Home Plan Doctor by Larry W. Garnett is available by clicking here.