INTERIOR DESIGN ELEMENTS – A Space of Your Own
Family Home Plans
What makes a home inviting? As with any discussion of design elements, the answer is usually quite subjective. Diverse personal preferences make it difficult to nail down specifics, but a few general guidelines can help increase the attraction and comfort of several areas in your home.
The front door and entry, for instance, require special attention, since this area normally provides the first and last impression of any home. The size allocated to a foyer continues to be the subject of debate within the design community. While grand entries with elaborate staircases and 20-foot ceilings continue to be built, some designers and architects consider a more subdued space with lower ceilings and a functional stair design to be what many people prefer. Entering a home with an enormous expanse of white walls can be rather overwhelming, as opposed to the warm welcome one might feel in a cozier space.
Consider borrowing an idea from Frank Lloyd Wright. Instead of designing massive entries, Wright often used lower ceilings as transitions to rooms with larger proportions and higher ceilings. Rather than being overwhelmed by the foyer, you have a sense of being drawn toward the next room. However, Wright stood about five feet five inches and stubbornly thought everyone should relate to spaces just as he did! Nevertheless, Wright's theory seems valid in most cases. The overall success of individual rooms and their relationship to one another are the essence of any home. The experience of traveling through a home can be either uneventful or emotionally gratifying.
While this may sound a bit too philosophical, consider why you're building your new home in the first place. Though housing must first be considered as shelter, we all know that our homes are much more than mere protection from the elements. Regardless of the size or cost of our homes, they become a reflection of our personalities. Part of this statement bears repeating: regardless of the size. You may have had the experience of walking into an enormous house that obviously was built with an unlimited budget but somehow, beyond its uniqueness and grandeur, simply doesn't feel inviting. It is not a place where you would feel comfortable relaxing with a good book, watching television, or simply interacting with your family. On the other hand, recall some of the small and often inexpensive homes you've visited that exude a wonderful sense of warmth and invitation – homes that say, "Come on in, kick off your shoes, and relax!"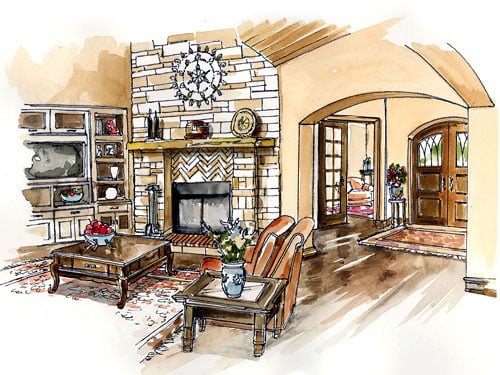 The front door and entry require special attention. Thick walls with an arched opening de?ne the foyer and adjacent gallery. A 12-foot vaulted ceiling in the family room seems even more impressive when you enter from the foyer with its lower 9-foot ceiling. Plan Number: 56543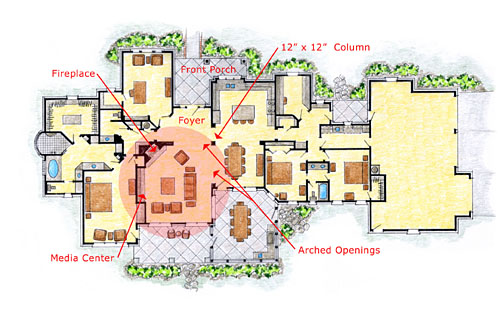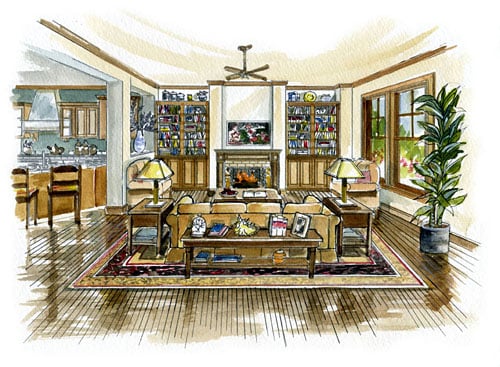 The family area in this efficiently designed cottage is a comfortable place to watch television or enjoy conversation. Traffic flows past the seating arrangement instead of through the room, eliminating the need for large square footage. The compact size and built-in bookcases are key to the room's wonderful sense of warmth and coziness. Plan Number: 56504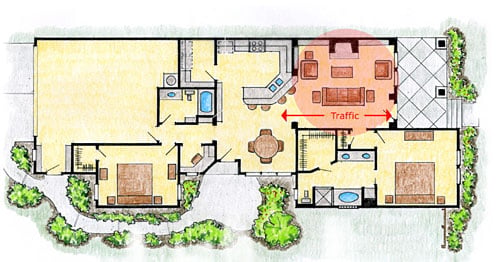 Designing for Comfort
Making your home an arrangement of comfortable, inviting spaces involves thinking carefully about how you and your family will use each of those spaces and designing them accordingly. Ceiling height, window type and placement, and unique focal points such as built-in bookcases or small alcoves all contribute to the feeling of a room.
Ceiling height has an enormous impact on any room. High ceilings create a sense of grandeur, while lower ceilings promote a sense of coziness. Many current house plans call for a raised ceiling in the family room. If you entertain often, with large numbers of guests congregating in the family room, a volume ceiling will certainly offer a feeling of spaciousness. However, the tradeoff might be a loss of warmth and coziness. If you want a feeling of spaciousness in a certain room, consider adding some exposed beams or trusses to help maintain a personal scale.
In general, the comfortable height of any room relates to the size of the room itself. A 16-foot ceiling may work fine in a room measuring 25 feet in width. However, a hall or bathroom with a 10-foot ceiling can feel like a canyon. A good guideline is that either the width or the depth of a room should be greater than its ceiling height.
Windows also play a large role in creating comfortable and inviting spaces. Careful placement of windows within a room can make the area seem much larger. For example, locating two windows at the corner of a bedroom extends the view diagonally across the room.
Focal points can add character to a room. High ceilings allow the use of transom windows, which offer additional natural light and can become a major design element in a room. Window seats also make charming focal points, as they create cozy alcoves for sitting and enjoying the natural light.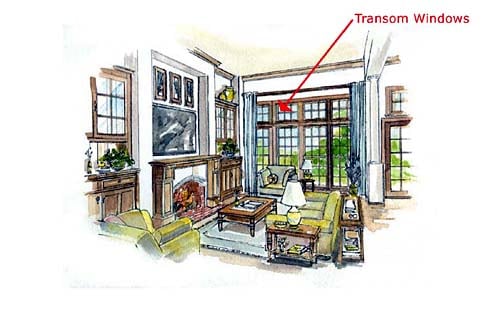 A family room with high ceilings (at least 10 feet) is a good place to use transom windows. Plan Number: 56534
When quizzed about the details they find appealing in older homes, many people invariably mention the nooks and crannies that are abundant in homes built in the late nineteenth and early twentieth centuries. Such unique home features, such as window seats, small alcoves, and built-in bookcases, seem to add a great deal of charm to any room. These areas provide private spaces to read, study, or just get away. A small offset in a bedroom with a built-in desk and bookcase, for example, gives the homeowner a secluded place to work or pursue a hobby.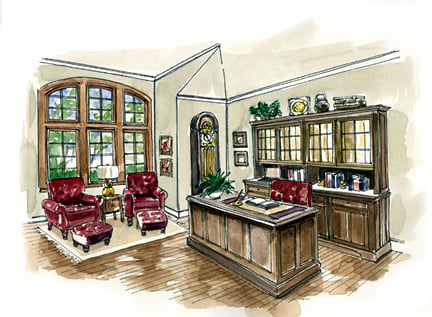 An alcove with arch-top windows provides a light-?lled area that's perfect for reading. Plan Number: 56537
In recent years our attempts to create open floor plans have often eliminated such delightful areas. However, most designs can easily be reworked to include these spaces. As the design community strives to create more innovative floor plans, remember that it's often the subtle details that make homes inviting and comfortable. Instead of trying so hard to create something new, perhaps we need to pay more attention to design elements that have worked for many years.
Size versus Function
Possibly the greatest misconception about home design is the assumption that simply enlarging a room will make the space more inviting and functional. Room size is far less important than such elements as window placement, finish materials, colors, ceiling height, and the overall shape of the room. On a practical level, room size should be dictated by the function of an area. For instance, a family room must be large enough to comfortably accommodate the required furniture. If the room dimensions are not adequate, the space will seem cramped. However, a family room that's too large can swallow the furniture and leave you with an uninviting and, perhaps, overwhelming sensation.
Over the years I've tried to remain acutely aware of each client's uniqueness. I recall working with one of my very first clients, who insisted on an elegant foyer with two circular staircases and an enormous living room that featured 20-foot ceilings. These areas appeared so overwhelming that your initial response was to simply say, "Wow!" Thus, I began to label such spaces as wow! rooms. I also designed for these clients a wonderful kitchen and family area with finely detailed trim and expansive windows overlooking their pool. They later told me that this room, just large enough for a sofa and two comfortable chairs, became the area where they spent most of their time. However, they promptly also related how much they enjoyed their magnificent living room, as they hosted frequent dinner parties and social gatherings. This became a valuable lesson for me as a designer: listen very carefully to how clients live and take the amount of time required to understand their personal tastes and needs.
Obviously, what one family considers inviting and functional may be overwhelming and wasteful to another. Carefully consider the lifestyle of your family. Spend as much time as possible contemplating your daily routines. Ask yourself not only which individual room features will make areas appealing to you, but also what details might enhance their functionality. For more information, see the book Home Plan Doctor.