Infill Housing Solution
Family Home Plans
Responding to the concern for privacy in high-density environments has resulted in the creation of secluded side courtyards on several of the designs. Particular attention has been paid to the proper proportions,
massing, roof forms, and scale of each exterior design.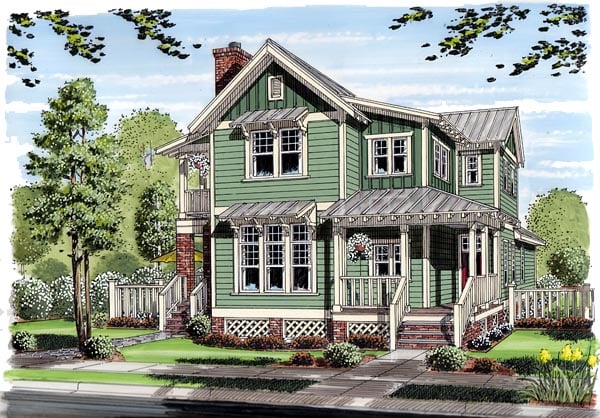 These considerations – along with the appropriate selection of materials – ensure that, while the designs might not exactly replicate the look of nearby properties, they will be compatible.
The economics of most infill projects require high-density sites. Therefore, one of the most important features of any infill design is the creation of private, yet open outdoor space. This design features a private side yard and porch with views from the living/dining area, kitchen, master bedroom, and upstairs study/bedroom.The exterior materials utilize durable cement-fiber horizontal and vertical (batt and board) siding, along with metal roofing. The raised front porch and wrought-iron gate leading to the side porch offer views to the neighborhood, while maintaining a sense of privacy.
The first-floor master bedroom provides easy access from the rest of the house, while still maintaining a sense of seclusion. Ten-foot ceilings and 32-inch-wide doors enhance the open design of the first floor. A "drop zone" adjacent to kitchen becomes a functional place to organize daily tasks with dedicated spaces
for mail, keys, cell phones, and other items commonly placed on the kitchen counter.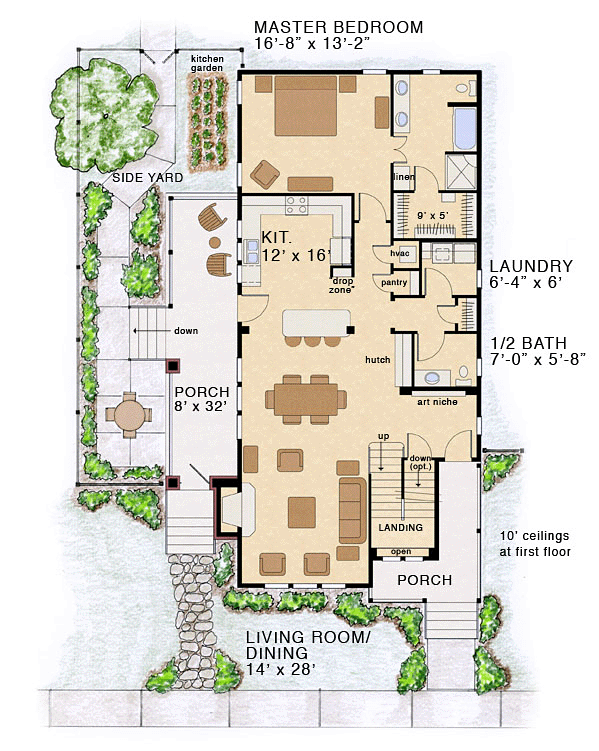 Large windows with transoms along the dining and kitchen areas allow for plenty of natural light and views to the side courtyard. Traffic patterns throughout the first floor provide for functional placement of furniture. The living room arrangement allows generous seating with ideal views of the fireplace and flat-screen TV above, along with great views toward the front yard.
Upstairs, a cozy library loft with built-in bookcases offers the perfect place to read and relax. The third bedroom can easily transform into a private study, game area, or media room. Double French doors open to a covered porch overlooking the side courtyard below. The staircase design features a landing that is separated from the expansive front windows by a railing and open space. This, along with the upper windows on the front and side, creates a distinctive and light-filled focal point of the home. Depending on the lot size and location, a detached garage can easily be placed to the side or rear of the home.