Small Floor Plan for Affordable Home Construction
Family Home Plans
Small Floor Plan 77413 has 1,500 square feet of living space, 3 bedrooms, and 2 bathrooms. In addition, it has an open layout, kitchen island, and a large laundry room. This popular small home plan offers affordable construction based on its simple design. This budget-friendly house plan is available to build on a slab or crawlspace foundation.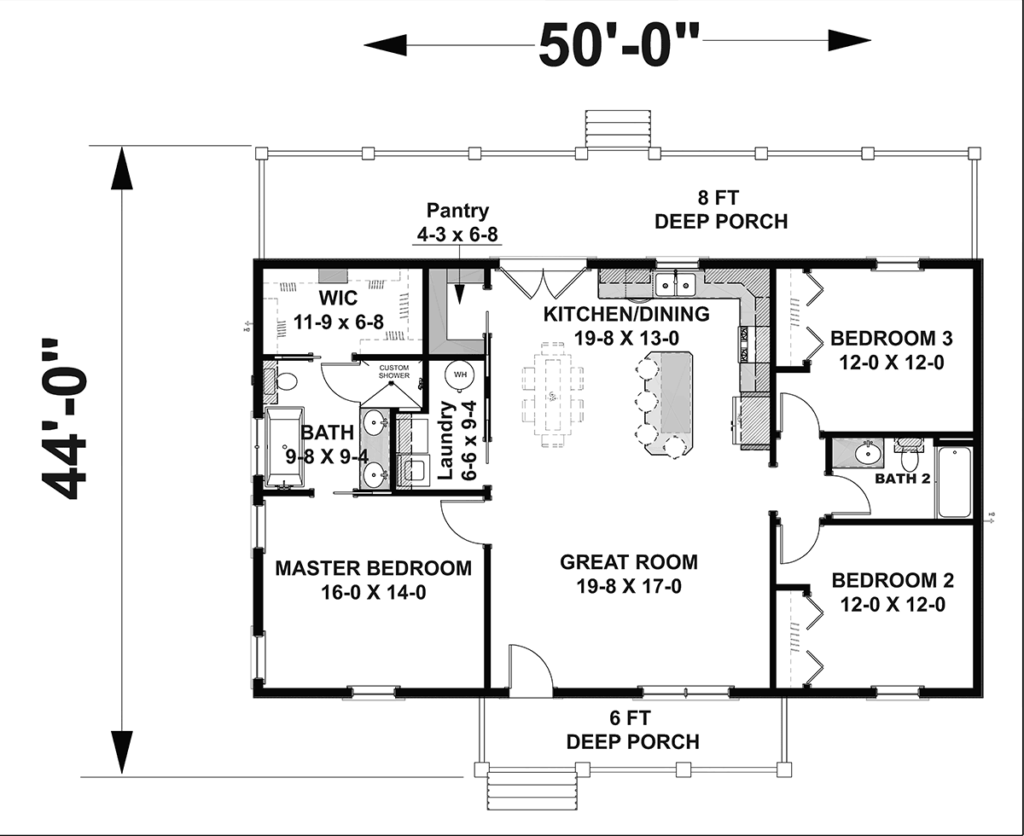 Small Floor Plan equals investment property
Firstly, Small Floor Plan 77413 is an investment property because of the simple layout. Several straight walls will make construction fast and easy. Vertical white siding has a clean appearance, and it's easy to find at the building supply store. In-stock building supplies are budget-friendly. In contrast, custom materials are more expensive. These cost-effective details bring instant curb-appeal.
Secondly, three bedroom homes are in high demand. Renters and young families are often in the market for a 3 bedroom home. If you are planning to build a home to rent out, this one will be snapped up quickly. Thirdly, your family will benefit for many years if you choose to build Small Floor Plan 77413. Though modest in size, this home is perfect for many family stages. A young couple will have a guest room and office. A young family will have enough bedrooms for children. When your family grows, you can build a larger home and rent this one out. When you retire, there's always the option to downsize and move back in.
Check out the features:
We've established the facts: there are no cons to Small Floor Plan 77413. Let's look at a list of pros:
Master suite with generous walk-in closet.
Master ensuite with double vanity, custom shower, and modern tub.
Open floor plan for easy traffic flow.
Big kitchen with island bar seating and large walk-in pantry.
Front covered porch and rear covered porch for outdoor living.
Good-sized laundry room with space for water heater.
In conclusion, Small Floor Plan 77413 is a great value with a wide variety of innovative features. Make this your home today! Click here to see the specifications and pricing at Family Home Plans.