Narrow Lot House Plan With Upper-Level Laundry Room
Family Home Plans
Narrow Lot House Plan 43502 is conducive to a village community style layout. Porch forward and narrow footprint allow for zero lot line developments such as planned traditional neighborhood developments (TND). An almost 1700 square foot floor plan has the open living space on the main level and three bedrooms on the 2nd floor. Overall, this home plan measures 19′ wide by 45′ deep, and it boasts 9′ ceilings on the main level.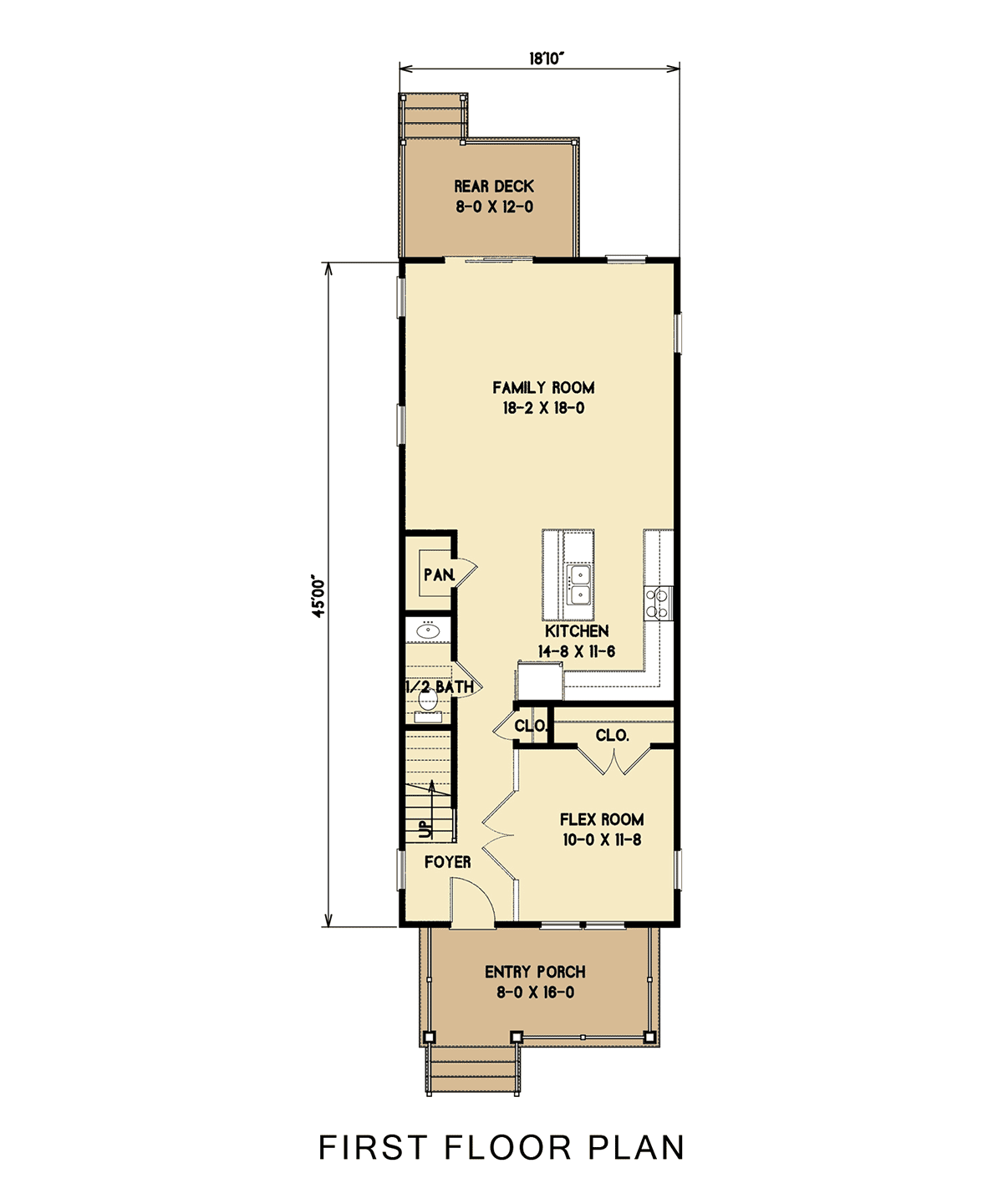 3 Bedroom Narrow Lot House Plan
Our clients are looking for narrow lot house plans because they need a design to fit into an unusually-sized lot. Firstly, in a neighborhood, you might have a property that faces the road, and it's much longer than it is wide. This is called a "narrow lot." Check with your building permit office to make sure that Narrow Lot House Plan 43502 will fit on your lot. You may need to account for setbacks. For example, rules may dictate how close you can build to the sidewalk or how close you can build to the sides of the property line.
Secondly, this home plan works for golf course lots. Golf courses are prime real estate, and sometimes the opportunity to build by one is hard to find. Many golf courses are trying to secure real estate opportunities by offering smaller, narrow lots in order to fit in more homes. House Plan 43502 will fit on most lots because it's only 19′ wide. Retirees will love this plan because it offers comfortable interior living space, but the location is the main goal. We'll see you on the green at first light.
Thirdly, this is a great Infill Lot House Plan or Zero Lot Line House Plan. Infill lots are found in already-developed areas. Those construction sites may be small and narrow, but they are desirable because the surrounding area has established amenities. Often, it's a lot where an older building or house was torn down. As a Zero Lot Line House Plan, plan 43502 can be built right on the property line. Picture a rectangular piece of property. Position the house to hug the left side of the property line, and then you have a nice-sized yard on the right side. It's perfect for throwing a football.
Interior With Functional Layout
Narrow Lot House Plan 43502 opens into the foyer, and it has a 9′ ceiling. With a narrow home, it's a good idea to "go up." Tall ceilings give the illusion of spaciousness. To your right side is a flex room, meaning that it's flexible. You can use it for a formal dining room or home office for example. The hallway continues into the open living space. In the kitchen, traffic flows gracefully around the large center island. There is plenty of cabinet space all around, and the walk-in pantry adds more storage space.
Go upstairs to find all three bedrooms. You will appreciate the amenities of the master ensuite. Mom and Dad have a double vanity and walk-in shower in the master bathroom. Plus, there is a large walk-in closet. The smaller bedrooms share a full bathroom with double sink and tub/shower combination. Busy families love this floor plan because the laundry room is located upstairs. You won't have to lug the laundry baskets up and down the staircase!
Click here to see the plan specifications and pricing for Narrow Lot House Plan 43502 at Family Home Plans. Save this plan on Pinterest using the picture below: