QUICK-Cost-To-Build: Only $19.95 Per Plan
No Risk Offer
: Order the QUICK-Cost-To-Build now and when you do decide to order any house plan, $19.95 will be deducted from your order! *
Get
more accurate results
, quicker! No need to wait for a reliable cost.
Get a
detailed cost report
for your home plan with over 70 lines of summarized cost information in under 5 minutes!
Cost report for
your zip code
. (the zip code can be changed after you receive the online report)
Estimate 1, 1½ or 2 story home plans. **
Interactive!
Instantly see the costs change as you vary quality levels Economy, Standard, Premium and structure such as slab, basement and crawlspace.
Your estimate is active for 1 FULL YEAR!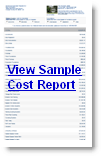 View an actual, LIVE cost report. This report is for demo purposes only. Not plan specific.

$19.95
Available for U.S. only.
* Limit one $19.95 credit per complete plan package order.
** Estimate Assumptions