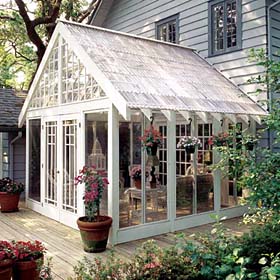 Add this plan to My Plans
Project Plan 501916
Sunny Shelter
Order Code: 00WEB

Pricing Information:
1 Set of Prints: $24.95
Additional Sets: $9.95 each
* PDF File: $24.95





* Bond Copy or PDF File Available
NOTE: If you order the PDF file, this plan will need to be printed on 18 x 24 inch paper to obtain the proper drawing scale. A local print shop should be able to accommodate you.


Bright by day or night, this jewel-like sun-room looks like a traditional conservatory. Screens form the walls, but vinyl panels can be added to hold off wind and rain. The roof consists of inexpensive clear-plastic panels available at home improvement stores. The finished room measures about 12 x 12 feet.

Full-size patterns, materials list, and building instructions are included in this professionally drawn blueprint.