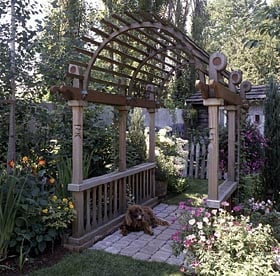 Add this plan to My Plans
Project Plan 503492
Covered Bridge Arbor
Order Code: 00WEB

Pricing Information:
1 Set of Prints: $24.95
Additional Sets: $9.95 each
* PDF File: $24.95





* Bond Copy or PDF File Available
NOTE: If you order the PDF file, this plan will need to be printed on 18 x 24 inch paper to obtain the proper drawing scale. A local print shop should be able to accommodate you.


Laminated strips of ¼-inch cedar form the arches on this bridgelike arbor. Its floor is a pad of tumbled concrete pavers "spanning" a landscaped "streambed". Optional carved faces on the 4x4 posts represent spirits that keep you company in the garden. The structure measures about 6x12x9 feet.