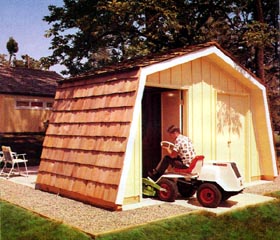 Add this plan to My Plans
Project Plan 504072
Outdoor Storage Shed
Order Code: 00WEB

Pricing Information:
1 Set of Prints: $24.95
Additional Sets: $9.95 each
* PDF File: $24.95





* Bond Copy or PDF File Available
NOTE: If you order the PDF file, this plan will need to be printed on 18 x 24 inch paper to obtain the proper drawing scale. A local print shop should be able to accommodate you.


This storage shed has a party side as well as a practical side. Three spacious rooms inside give you space to store everything from the garden tractor, which drives right in through the back door, to a serving bar built across the front facing the patio. Store everything for barbeques inside and you're ready for a party anytime.