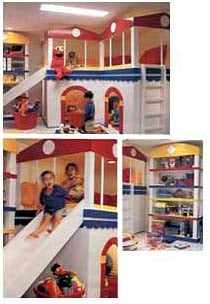 Add this plan to My Plans
Project Plan 500462
Kids' Basement Playroom
Order Code: 00WEB

Pricing Information:
1 Set of Prints: $14.95
Additional Sets: $5.95 each
* PDF File: $14.95





* Bond Copy or PDF File Available
NOTE: If you order the PDF file, this plan will need to be printed on 18 x 24 inch paper to obtain the proper drawing scale. A local print shop should be able to accommodate you.


Round up your kids' toys in grand style with these Castle Playroom Modules. Our Project Plan includes a materials list, construction diagrams, and clearly written instructions to make playhouse modules, bookshelves, and a TV shelf.