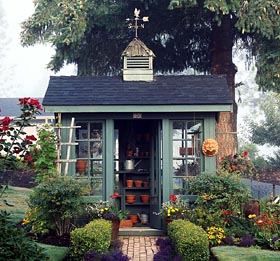 Add this plan to My Plans
Project Plan 500512
Garden Gatehouse
Order Code: 00WEB

Pricing Information:
1 Set of Prints: $24.95
Additional Sets: $9.95 each
* PDF File: $24.95





* Bond Copy or PDF File Available
NOTE: If you order the PDF file, this plan will need to be printed on 18 x 24 inch paper to obtain the proper drawing scale. A local print shop should be able to accommodate you.


You can duplicate this charming and practical garden house with our project plan. This professionally drawn blueprint is not sold in retail stores. The plan contains a photo of the project, a complete list of materials needed; detailed construction drawings; full-size patterns; and instructions. Measuring about 6x9x11 feet, the cupola adds approximately 30 inches to the overall height of the building.