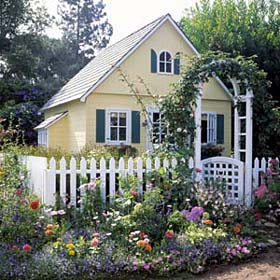 Add this plan to My Plans
Project Plan 500819
Wonderland Playhouse
Order Code: 00WEB

Pricing Information:
1 Set of Prints: $24.95
Additional Sets: $9.95 each
* PDF File: $24.95





* Bond Copy or PDF File Available
NOTE: If you order the PDF file, this plan will need to be printed on 18 x 24 inch paper to obtain the proper drawing scale. A local print shop should be able to accommodate you.


Charm your young ones with a little home of their own where imaginations will soar on wondrous adventures. Professionally drawn blueprints for this playhouse, fence, and arbor come with exterior and interior photos, a list of materials, construction drawings, and instructions. The playhouse measures approximately 10 x 12 feet.

The plateline from the finished floor is 6'4". The ridge height from the finished floor is 11'4".