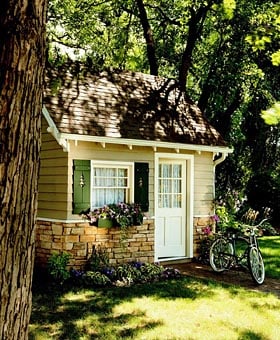 Add this plan to My Plans
Project Plan 503496
Cottage-Cozy Shed
Order Code: 00WEB

Pricing Information:
1 Set of Prints: $24.95
Additional Sets: $9.95 each
* PDF File: $24.95





* Bond Copy or PDF File Available
NOTE: If you order the PDF file, this plan will need to be printed on 18 x 24 inch paper to obtain the proper drawing scale. A local print shop should be able to accommodate you.


Stacked stone walls, clapboard siding, and shutters with pine-tree cutouts come together to lend good looks to this 8x11-foot shed. The inside is unfinished and is used for storing tools, sleds, and bikes. At the back, an outside woodpile area is slightly elevated and sheltered by the overhang.