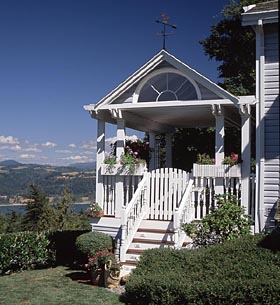 Add this plan to My Plans
Project Plan 503497
Playful Slant Porch
Order Code: 00WEB

Pricing Information:
1 Set of Prints: $24.95
Additional Sets: $9.95 each
* PDF File: $24.95





* Bond Copy or PDF File Available
NOTE: If you order the PDF file, this plan will need to be printed on 18 x 24 inch paper to obtain the proper drawing scale. A local print shop should be able to accommodate you.


Dining out has never been more satisfying! This eye-pleasing 450-square-foot deck is an enclosed haven, thanks to the close-set railings and picket-style gate reinforced with Z-bracing. Adding more style is the peak of the roof featuring arched windows on each end. Structure comes from four sets of supporting twin columns. Each column supports double lengthwise rafters, which in turn support the cross rafters for the roof. The deck measures approximately 8x8x10 feet tall.