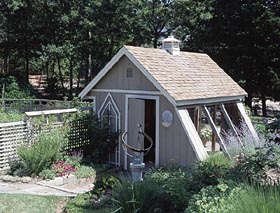 Add this plan to My Plans
Project Plan 503499
Greenhouse-Style Garden Shed
Order Code: 00WEB

Pricing Information:
1 Set of Prints: $24.95
Additional Sets: $9.95 each
* PDF File: $24.95





* Bond Copy or PDF File Available
NOTE: If you order the PDF file, this plan will need to be printed on 18 x 24 inch paper to obtain the proper drawing scale. A local print shop should be able to accommodate you.


This shed does a lot more than just store tools and garden supplies. It also serves as a greenhouse with south-facing glass panels bringing sunlight to a soil bed and potted plants inside. The greenhouse bay, glazed with glass from discarded storm doors, brings design interest to the classic shed proportions. Measuring about 12x14x11 feet tall, the cupola adds approximately 36 inches to the overall height of the shed.