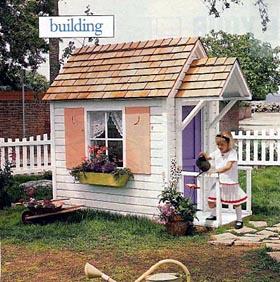 Add this plan to My Plans
Project Plan 503592
1930's Playhouse
Order Code: 00WEB

Pricing Information:
1 Set of Prints: $24.95
Additional Sets: $9.95 each
* PDF File: $24.95





* Bond Copy or PDF File Available
NOTE: If you order the PDF file, this plan will need to be printed on 18 x 24 inch paper to obtain the proper drawing scale. A local print shop should be able to accommodate you.


This miniature house was inspired by the cover illustrations from Better Homes and Gardens magazine's April 1930 issue. The tiny house measures just 4'0" x 8'0" x 7'8" tall, including the porch, and is easy to build from common materials. The playhouse is framed with 2x4s, asphalt shingles cover the roof, and the exterior is clad with everyday lap siding.

Instead of a conventional window, the opening is covered by a piece of clear acrylic plastic that won't shatter no matter how rough the kids may play. A grille made from painted 3/4 inch trim creates the look of a divide-light window.