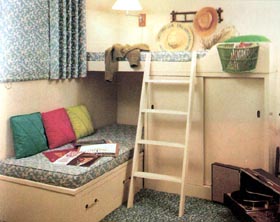 Add this plan to My Plans
Project Plan 504090
Space Saver Bunks
Order Code: 00WEB

Pricing Information:
1 Set of Prints: $24.95
Additional Sets: $9.95 each
* PDF File: $24.95





* Bond Copy or PDF File Available
NOTE: If you order the PDF file, this plan will need to be printed on 18 x 24 inch paper to obtain the proper drawing scale. A local print shop should be able to accommodate you.


You get a lot in a little space with this bunk ed. Besides beds for two children there's a sliding door closet plus two drawers for clothing or toys. Foam mattresses on the bunks are easy to fit in and good for young backs. You build the bunks in component parts, then fasten them together. If you can build plywood boxes, this project is a snap.