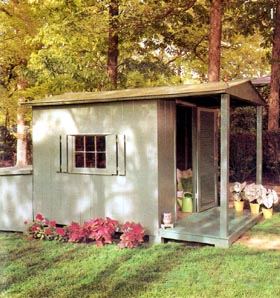 Add this plan to My Plans
Project Plan 504125
Storage Shed
Order Code: 00WEB

Pricing Information:
1 Set of Prints: $24.95
Additional Sets: $9.95 each
* PDF File: $24.95





* Bond Copy or PDF File Available
NOTE: If you order the PDF file, this plan will need to be printed on 18 x 24 inch paper to obtain the proper drawing scale. A local print shop should be able to accommodate you.


Use part of this storage building for the kids' outdoor toys and the rest for your gardening supplies. There's plenty of room for the tiller, the lawnmower and all of your rakes, shovels and spades. Or you can use part of this shed as a potting area. Add the low lean-to on the back for other outdoor equipment.