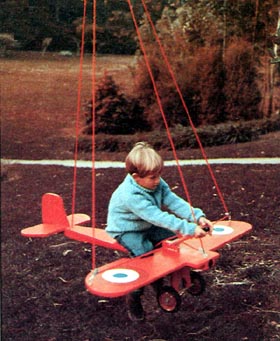 Add this plan to My Plans
Project Plan 504161
Swinging Airplane
Order Code: 00WEB

Pricing Information:
1 Set of Prints: $24.95
Additional Sets: $9.95 each
* PDF File: $24.95





* Bond Copy or PDF File Available
NOTE: If you order the PDF file, this plan will need to be printed on 18 x 24 inch paper to obtain the proper drawing scale. A local print shop should be able to accommodate you.


Any young pilot can bank, dive, and climb in this plane that swings from a sturdy tree branch. It is cut from plywood, then sanded and painted. Nylon rope is threaded through pulleys at strategic points.