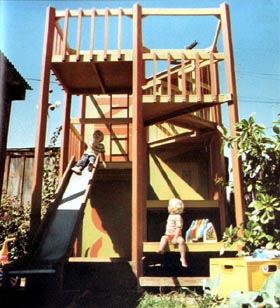 Add this plan to My Plans
Project Plan 504233
Play Structure
Order Code: 00WEB

Pricing Information:
1 Set of Prints: $24.95
Additional Sets: $9.95 each
* PDF File: $24.95





* Bond Copy or PDF File Available
NOTE: If you order the PDF file, this plan will need to be printed on 18 x 24 inch paper to obtain the proper drawing scale. A local print shop should be able to accommodate you.


: Besides being a real treat for the kids, this play unit can go with you when you move. It's made from five components that you build beforehand, then assemble with lag bolts. (This one went up in six hours.) All platfors are 4 x 4' squares of 5/8" plywood over 2 x 4 framing. Posts are 4 x 4s resting on concrete piers.