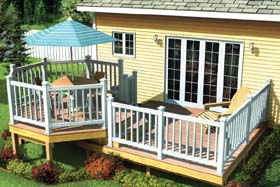 Add this plan to My Plans
Project Plan 90053
The Maintenance Free Picnic Deck
Order Code: 00WEB

Pricing Information:
1 Set of Prints: $39.95
Additional Sets: $9.95 each
* PDF File: $39.95





* Bond Copy or PDF File Available
NOTE: If you order the PDF file, this plan will need to be printed on 24 x 36 inch paper to obtain the proper drawing scale. A local print shop should be able to accommodate you.


Low maintenance decking and PVC railings enhance the pleasures of outdoor cookouts and dining on an 8-sided, 10' diameter raised picnic area.

Included: Complete Drawings for an 8 sided, 10' Diameter Raised Picnic Area with 5 Different Size Options for the Lower Deck:

12x12, 12x16, 12x20, 14x16, 4x20

Low maintenance decking and PVC railing components eliminate twisting, cupping, and warping.

Carefully designed by professionals, this plan includes:


Full Materials List
Easy-to-Follow Plans and Instructions with Details and Diagrams.