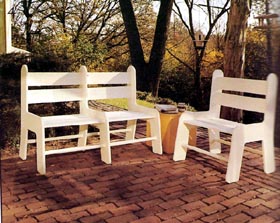 Add this plan to My Plans
Project Plan 504205
Park Bench
Order Code: 00WEB

Pricing Information:
1 Set of Prints: $24.95
Additional Sets: $9.95 each
* PDF File: $24.95





* Bond Copy or PDF File Available
NOTE: If you order the PDF file, this plan will need to be printed on 18 x 24 inch paper to obtain the proper drawing scale. A local print shop should be able to accommodate you.


These contemporary versions of old park benches make picturesque additions to almost any outdoor area. Cut the bench from a ¾" plywood and lumber; sand, paint, and add a protective finish.