Hillside Home Plans for Sloping Lots
Family Home Plans
Search our Hillside Home Plans collection
Hillside homes are specifically designed to adapt to sloping or rugged building sites.  Whether the terrain slopes from front to back, back to front, or side to side, a Hillside home design often provides buildable solutions for even the most challenging lot.  One common benefit of a Hillside home is the walk-out or daylight basement.  Because the slope of the lot often exposes a portion of the lower level, basement walls can accommodate more windows, providing a lighter, brighter environment.  If you're planning to build a walk-out basement, consider constructing 9-foot-high foundation walls to enhance this "upper-level" feel.   

Hillside Home Plan # 99939 In this popular hillside design you have a choice for the master suite location; it could be on the main floor as shown, or you might choose to move it to the upstairs loft. A wrap porch shelters the front door leading to a roomy foyer with a handy coat closet. The central fireplace could be finished in stone to maintain a rustic mountain side atmosphere. 
Rustic, natural appearance
Walk-out basements with lots of light
Decks, porches or screened rooms
Hillside floor plans range greatly in size
Search our Sloping Lot House Plans for hillside, mountainside, or waterfront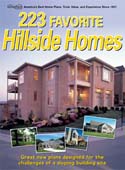 223 Favorite Hillside Homes
They're often the most difficult lots for building, especially when most blueprints aren't designed for anything but a standard lot. Yet, because of their difficulty, hillside lots are often the best value to the homeowner. In this outstanding new book, a difficult lot becomes a valuable lot, with 223 plans designed just for the challenges of the sloping building site.
 See similar styles Cabin Plans and A-Frame House Plans