Narrow Lot Home Plans
Family Home Plans
Search our Narrow Lot House Plans collection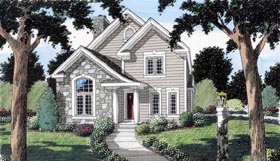 As homebuilding sites have gotten smaller, Narrow Lot homes have become the design of choice for many.  Sometimes referred to as Zero-Lot Line homes, shotgun house plans, or Patio Homes, Narrow Lot homes are commonly found in new high-density subdivisions, as well as in older communities' in-fill sites.  The majority of Narrow Lot homes range between 20 to 40 feet in width.   The narrowest homes span only about 12 feet and the "widest" generally approach 50 feet in width.   In addition to being narrow, most of these homes are quite deep.  Rooms are arranged in a linear layout, often featuring the main living areas at the front and the bedrooms at the rear, or on a second level for privacy.        
Home widths generally between 20′ and 50′
Deep, narrow floor plans
Linear room arrangements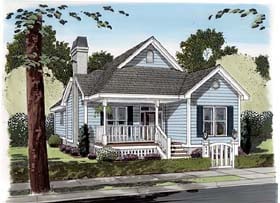 Popular Narrow Lot House Plan #74002
The concept behind this zero lot line plan was to design a compact, narrow home that could be expanded on the inside to meet homeowners' needs for more living space. By providing the option of a finished basement below and a bonus room above, we created the potential for this home to live much larger than it looks. This design's pleasant character is felt at the front of the home, where a generous, eight-foot-deep porch shelters the entry. Inside, there is an immediate impression of comfortable open space, with a view of the free-flowing connection between the living room, dining room and kitchen. A nine-foot-high ceiling enhances the sense of airiness throughout the main floor. In smaller homes, achieving privacy and noise reduction is often a challenge, but we were able to attain both in the master suite, where walk-in closets provide a sound barrier from bedroom #2, and a private porch is accessed through French doors. The master bath is pleasantly accommodating, with a double vanity and whirlpool tub. Because of its narrow profile, this home would be well suited to a detached garage at the rear.
 Search our Narrow Lot Home Plans collection