OUTDOOR FIREPLACES
Family Home Plans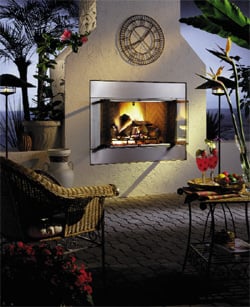 Awide variety of outdoor fireplace designs are currently available, from traditional hearths, to chimineas, to freestanding portable hearths, to low circular fire pits, some of them wood-burning and some gas-fired. Some, such as those from Majestic Fireplaces, can burn either wood or gas and are constructed when you build your new house.
Some come with a cooking grill and others bear more of a likeness to charcoal BBQ grills. Whatever kind you choose, make sure local fire regulations allow their use. See Backyard Kitchens
Outdoor fireplaces come in all shapes and sizes. If you are looking to induce a more casual atmosphere, a smaller, portable fire pit may be what you're seeking. Depending on your tastes, you can choose styles ranging from contemporary to rustic. Photography: Courtesy of Vermont Castings
Outdoor Fireplace
Designed with a chimney and stone or brick facing, the traditional outdoor hearth most resembles the one inside your home. Typically constructed with a stainless steel firebox, the outdoor hearth is built to withstand the elements, and most come with a drain system to eliminate precipitation build-up.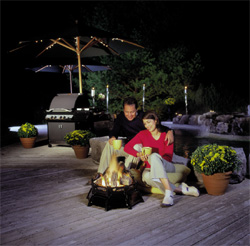 These fire structures are permanently installed and must meet local building codes, which include venting specifications, clearances, and guidelines regarding use.
Chimineas
For hundreds of years, Mexican craftsmen have constructed chimineas (bulbous, free-standing wood stoves) out of terra cotta. Originally used for baking, these fireplaces were also a warming place for friends and families to gather outdoors. Today, fashionably constructed in the old style, they embellish any backyard and are just as inviting as those from the past.
Whether adorned with simulated stone or an intricate design, the chiminea maintains its traditional Mexican appearance and proves to continue to be as inviting as they were hundreds of years ago. Photography: Courtesy of Hearthlink Outdoor Fireplaces.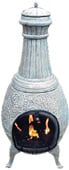 Choices today include clay, cast aluminum, and cast-iron chimineas. Each has its own advantages. Clay or terra cotta chimineas are more traditional but are breakable. Iron and aluminum tend to be more durable, and aluminum is resistant to rust.
Chimineas are designed to burn wood, which traditionally was pinion wood, a southwestern pine known for its aromatic fragrance and its natural ability to repel insects. Before buying, look for one with a spark arrestor, custom-fit fire screen, chimney cap, heavy-duty cast-iron grate, and damper.
Free-Standing Portable Hearths
Another type of outdoor hearth steps completely away from the look of the traditional chimney-style fireplace. Constructed of stainless steel with a steel mesh screen, these fireplaces are often on wheels and feature handles so they can be moved. They also offer a 360-degree view of the flames, giving true meaning to the term "gathering around the fire."
Some of these wood-burning, freestanding hearths are equipped with a chimney. Some also have a removable door, offering a view of an open fire. Most come standard with weather cover and so require little maintenance.
Fire Pits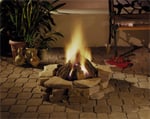 Like the name suggests, fire pits are circular structures that are either elevated on their own stand or built into the ground. Constructed of weather-resistant materials, such as concrete or brick, these fire pits are stunning as well as sturdy. Typically these fireplaces are gas-fueled.
When was the last time you built a campfire this elegant? I bet the fires you remember sitting around singing songs to and telling ghost stories didn't look quite like this. Photography: Courtesy of Vermont Castings.
Fire pits are available in a variety of styles, from elegant and stone-covered, to meticulously detailed structures, to rustic ones that look like campfires.