Southwest Style Home Design
Family Home Plans
Search our Southwestern Style Homes collection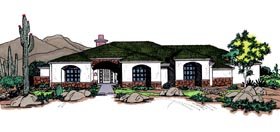 Like the Florida and Mediterranean home, the Southwest style home is designed to thrive in hot climates.  A variety of looks are encompassed by this style, including Pueblo, Spanish Revival, Adobe and Mission.  Exterior walls are typically clad in stucco or stucco-like materials and/or brick.  Wood siding is also sometimes used, since humidity is low in the style's indigenous region.   Flat roofs or low-pitched tiled roofs, deep overhangs, rounded edges, decorative arches and courtyards commonly play a part in the look of these southwestern homes.   Although multiple levels are commonly built, single-story designs make up the majority of the homes in this category.
Stucco or brick exterior
Flat or low-pitched tile roofs with deep overhangs
Decorative arches, columns and courtyards
Southwestern floor plans can be one or two story.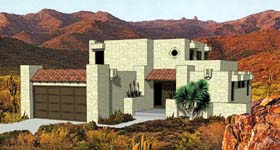 Popular Pueblo Style Home Plan #94423
This amazing 1583 square foot two story pueblo design features a three bedroom floor plan and three full bath rooms. The tiled foyer opens into a large living room with a unique Kiva fireplace.
The Master Bedroom is located on the upper level and adjoins with a private roof garden style deck.
An efficient "U" shaped Kitchen with snack bar is located next to the dining area.
A second Master Bedroom on the main level with private bath opens onto the patio.
Search our Southwest Style House Plans collection