Focus On Kitchens
Family Home Plans
If there's one lesson we've all learned by now, it's the fact that the kitchen functions as the hub of the home.  From spacious luxury designs to compact starter plans, this area becomes the focal point of every house. If you still question the necessity of a large, open kitchen, just observe what happens the next time you have a group of people at your home.  Invariably, everyone insists on gathering in the kitchen.  In fact, as more and more homeowners decide to eliminate the formal living room and formal dining room, the kitchen truly becomes the center for entertaining.
The design of smaller kitchens involves the challenge of creating an open layout while maintaining adequate counter work space and ample upper cabinet storage.  One of the key elements involves a plan that directs the traffic flow around the kitchen and not through it.  In addition to the kitchen being the focal point of every home, it also often doubles as the "command center."  With this 1400 sq. ft. design, the daily routines of paying bills and organizing activities takes place in the adjacent "Resource Center" with dedicated space for a desk, computer and file drawers.  The conveniently located "drop zone" provides special cubbies for mail, keys, cell phones and all of the other items that are typically "dropped" on the kitchen counter creating clutter and taking up valuable space. Adding to the efficiency is a space-saving "pantry wall" with a combination of open and closed shelves.
Traffic flow throughout a home always proves important in the placement of furniture and the overall feeling of spaciousness.  This consideration becomes even more critical with the location and layout of the kitchen.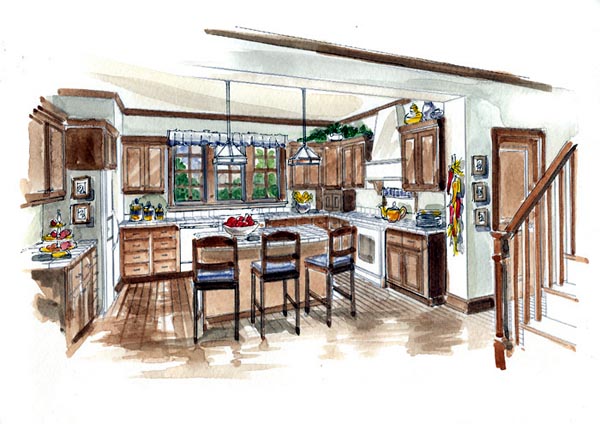 While this 2400 sq. ft. design utilizes an open concept for the kitchen/dining/family areas, note that the kitchen is actually recessed into an alcove. Thickened walls and headers create cased openings that define each of these areas while maintaining the open feeling.  Directing traffic "by" the kitchen but not "through" the area provides a secluded cooking and working space while still allowing guests to feel as though they?re in the kitchen.  The island provides additional room for food preparation along with an informal dining table.
Although the windows in the dining and family areas allow views towards the side and rear yard, it?s the triple windows over the sink that fill the kitchen with natural light.  Conveniently located adjacent to the kitchen is the laundry area and a pantry.
In many homes, the kitchen also doubles as the place to sort mail, pay bills and store cookbooks and recipes.  However, this design has incorporated a "Resource Center" where these daily tasks can be organized.  With windows overlooking the backyard, this space becomes an ideal spot to organize the household while watching the children play.  It?s easily accessible and yet secluded from the open view of guests.
Credit: Larry W. Garnett, FAIBD