Elegant Southern Style Country House Plan
Family Home Plans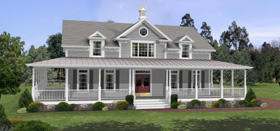 Popular Southern Country Home Plan #92465
This home design is what we choose to call an "Elegant Southern Country" style. This 1-½ story home is a simple southern design but becomes irresistible with its full wrap around porch and symmetrical dormers. If you can bear to leave the delightful porch for a while to go inside, you'll find a somewhat contemporary design with lively angles, room brightening clerestory windows and a spacious open floor plan.
This is a "master on main level" floor plan with lots of glass, an open family room, kitchen and eating area, and very little wasted space. Upstairs are two sizeable bedrooms and a loft. Bedroom number 2 has a walk-in closet with a pass-through to attic storage and built-in bookcase. Bedroom number 3 has a built-in desk and bookshelves. A special convenience is the laundry chute just outside bedroom 2.
The ceilings on the main level are 9' except for the clerestory areas above the master bedroom, family room, eating area and dining area which rise to approximately 18'. Upstairs ceilings are 8'. This southern house plans is one of our best selling home plans.
Search our Country Home Plans collection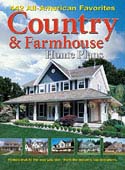 Country and Farmhouse Home Plans
A wide variety of popular southern country and farmhouse home plans fill this superb new plan book, making it a must for anyone looking for the down-to-earth quality and timeless appeal of the traditional American home. From modest country cottage to big farmhouse estate, every house plan is carefully chosen from the country's top residential designers. This collection of 442 classic country, southern country, and farmhouse style designs represents design samples from 20 residential home designers. This diversity will guarantee you a magnificent variety of architectural impressions within this style. Large southern to simple small country house plans.