Expandable Design
Family Home Plans
Imagine a young couple buying an affordable house in a neighborhood with the comfort of knowing that their home could grow along with their family and their finances.  Consider a couple of aging "baby boomers" who would like to downsize to an efficiently designed two bedroom cottage – with the peace of mind that for resell purposes they could offer their home with the option of adding more bedrooms and a bonus space?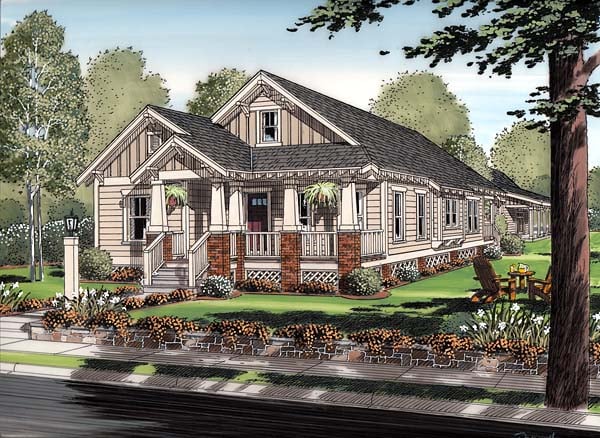 This two-bedroom cottage could provide the perfect solution for first time buyers, baby boomers, and many others!
The core design offers a two-bedroom open floor plan with plenty of windows for natural light and cross ventilation. However, if the need arises for more space, the options are exciting.  First, a central staircase leads to a second floor that easily transforms from attic storage to either an additional two bedrooms or a game room/media center. The quaint two-bedroom cottage now becomes a four bed-room home, while retaining its ar-chitectural integrity.

If the upstairs optional area still doesn't provide enough space, two more bedrooms can easily be added to the side of the home.  The al-ready spacious hall bath easily ac-commodates these new rooms.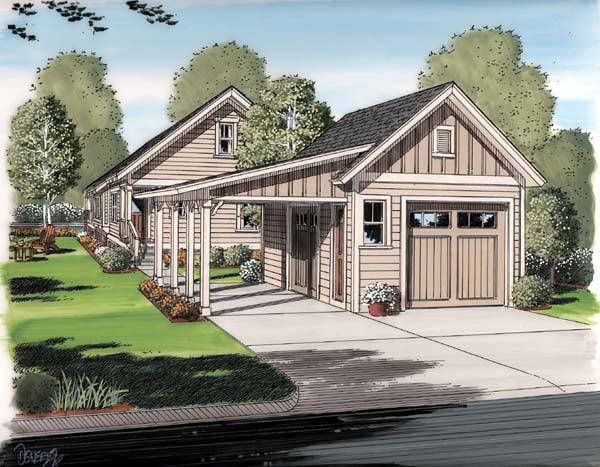 The detached garage could be built along with the home, or, depending on the finances, constructed later.  The "carport" easily transforms into a spacious outdoor living area.  Combined with the optional kitchen and toilet room in the ga-rage, the entire space offers an effi-cient alternative to a separate and costly "outdoor kitchen."
Garages that double as outdoor living spaces can have a dramatic impact on a neighborhood of homes with garages located at a rear alley.  Imagine the added activity along what is often just a narrow passageway for cars!  Weekend cookouts could easily transform the alley into a "people place" and a safe area for the children to play.