Outdoor Living Spaces
Family Home Plans
We've realized the importance of outdoor living spaces for years; creating an "indoor/outdoor" relationship is certainly nothing new.  However, as we continue to adjust the size of the new homes we build and search for ways to add value to our designs, extending living space outdoors becomes a critical design component.
The design of any outdoor space is every bit as important as a home's interior layout.  Just as walls, ceilings, and flooring define indoor spaces, outdoor living areas also require similar definitions.  The use of various surface textures such as decking, pavers, crushed granite, and concrete can begin to define the outdoor functions.  Structures, whether covered or open create "zones" for recreation, cooking, and visiting.
As our clients are faced with increasing transportation costs, functional and appealing outdoor entertaining areas are moving higher up the request list.  The ability to spend weekends and vacations in your own personal "mini resort" adds value to new homes and offers endless possibilities for upgrading existing homes.
Our design team has responded this month with outdoor living concepts that include pool houses, outdoor kitchens and even small vegetable gardens. Each of these designs offers intriguing ways to extend living space into the outdoors.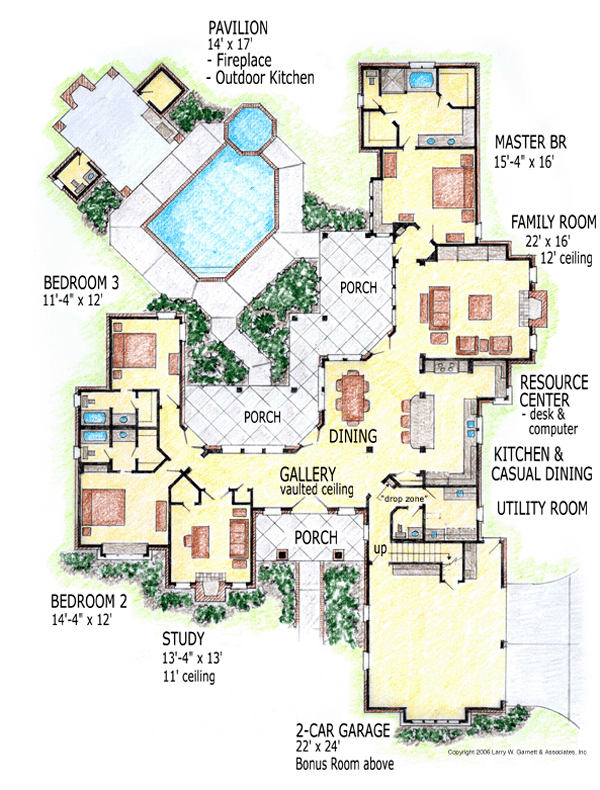 This courtyard home encourages an enjoyment of the outdoor spaces by creating a series of connections between the inside and outside living areas.  From the Gallery entryway, there is an immediate view towards the covered porches and pool area.  Expansive windows offer unobstructed views as you proceed through the house.  The angled walls throughout the home form an axis that aligns with the pool pavilion.  While this outdoor structure defines the far edge of the courtyard, it also offers additional covered living and dining space.  With a kitchen and fireplace, this area is perfect for entertaining.  The half bath and storage area prove to be essential components for a pool house.
While in the courtyard and pool area, a view back towards the main house reveals the large glass panels and multiple French doors that seem to erase the boundaries between indoor and outdoor spaces. From inside the home, these same doors and windows extend the visual dimensions of the rooms and allow a combination of light and shadows that change as the day progresses.  Essentially, the courtyard provides and enormous amount of natural light into the home, while offering a sense of privacy to the outdoor living space.
Credit: Larry W. Garnett, FAIBD