Be Your Own Contractor
Family Home Plans
 By Cynthis Doggett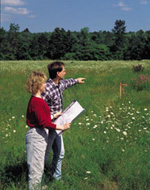 In a lifetime, there are not many projects that equal the enormity of building a new home. It is a tremendous investment of time, funds and for many, the realization of a long awaited dream. One way to ensure that your dream house becomes a reality is to be your own contractor.
Acting as your own general contractor means that you manage the project yourself. You do everything from dealing with subcontractors, costing the jobs, checking the work, obtaining the permits, to setting up a construction schedule. Doing your own contracting means that you maintain more control over the project. Overseeing the work reduces costly mistakes and misunderstandings.
It follows that you are likely to be satisfied, as the end result will be much closer to your personal vision. This route is also an obvious cost-saver since you eliminate the percentage a general contractor would take.The above paragraph lists attractive reasons for taking on this task. Yet, there are some pitfalls to "being your own contractor". If you haven't done your homework, you can make costly mistakes. We offer the following information to help you avoid those pitfalls.
The above paragraph lists attractive reasons for taking on this task. Yet, there are some pitfalls to "being your own contractor". If you haven't done your homework, you can make costly mistakes. We offer the following information to help you avoid those pitfalls.
Get at least three estimates for each job. Give each bidder the same set of house plans & specifications and make sure when comparing estimates that each is based on the same material list and the same size and complexity of work. Bids must be made in writing and in sufficient detail so that you understand what you are getting. Watch for hidden fees like "supervising fees".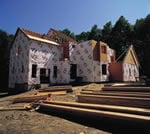 A written contract with each individual subcontractor is recommended establishing a work schedule with time penalties written in. Contractors have been known to disappear to another job for weeks, holding up your project. The penalty clause offers incentive to stay on the job. Hiring individual contractors on a "time & materials" basis is dangerous to your schedule, as without guidelines, there is no incentive to finish the project.
"Make frequent visits to the site to check on progress"
If you decide along the way that you'd like to make a change, draw up a "change order" specifying what was in the original contract and the update. Include any change in the budget or scheduling. You (the owner) & the subcontractor should initial the order. On a further note, be sure that each subcontractor carries worker's compensation insurance for his workers and ask for a copy of the certificate.
Understanding the sequence of construction and keeping the individual subcontractors scheduled in order is very important to the success of your project. In addition, you must know what inspections are required during the different construction phases and be prepared to let the appropriate building officials know when you are ready for each one. For example, there may be Footing, Framing, Plumbing rough-in, Electrical rough-in, Plumbing final, and Electrical final inspections – all leading up to the final building inspection and the occupancy permit.
Tips To Make Your Job Easier:
1. Always contact subcontractors to thank them for their bid even if you are not giving them the project. It's important not to burn bridges because a lot of time and effort goes into an estimate and if you have to replace a contractor due to problems, you may want to freely call on your next choice.
2. Make sure that when a work crew arrives to do a job, you have the necessary materials on the site and in proper quantities.
3. It is always better to directly communicate with the subcontractor and not with his work crew. This will prevent misunderstandings.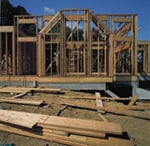 4. It must be said that construction is still mainly a man's world and being a female general contractor is difficult. How often does a woman have to mention that her "husband" is not happy with the progress, before action is taken? It can take a bit more work to gain the respect of the team players, but know your business and all will go well.
5. Before construction begins, notify your electrical contractor to install temporary electrical power and your plumbing contractor to install a temporary water hookup.
6. Prepare for soil erosion by installing silt fences or hay bales.
7. Keep a daily log of construction progress. Include notes from your meetings with contractors and an inventory of materials delivered to the site. This will help with organization and planning.
"Do not be afraid to ask questions and clarify your wishes"
Another consideration in being your own contractor is the issue of "your time" commitment. In fact, unless you are extremely organized, it can be a full time job. At the beginning, there is research, scrambling to town construction officials, meetings with your banker, insurance broker, excavator, site visits and there are endless days of phone tag. Your family time is upset because you are on the phone all evening. After all, most contractors are working on a site all day and can only be reached after their dinner and before 11:00 p.m. At all stages, this project will certainly monopolize your time.
 Building Your Own Home fot Dummies (Useful Book)
How to build a dream house – without breaking the bank. Packed with useful information, tips, and checklists, this easy-to-follow guide shows people step by step how to build a unique, beautiful home on any budget. It covers all the must-know issues, from acquiring land, finding the best architect, and cutting design costs to putting together financing, hiring (or not hiring) a general contractor, and overseeing construction.
Be Your Own House Contractor (Useful Book)
If you can balance a checkbook and deal fairly and competently with others, you can manage an entire construction project yourself–find and purchase land, set a workable budget, and hire subcontractors to do the actual building. Save as much as 25 percent off the price of a new house simply by understanding and controlling your costs. 
Join this Pennsylvania family as they experience the construction of their new home, Garlinghouse Plan 10515, from start to finish.