BACKYARD DECKS THAT LAST
Family Home Plans
View The Garlinghouse DIY Deck Plans collection.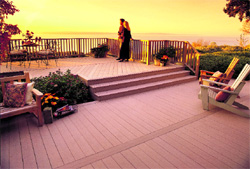 This two-tiered, ground-level deck is made entirely out of ChoiceDek, a composite material created by mixing wood fibers (red cedar or some other type of softwood) with polyethylene, which comes from recycled consumer waste. Photo courtesy of ChoiceDek. Backyard decks are great because they offer level and stable platforms for all kinds of spare-time pursuits, from barbecuing to entertaining, dining, playing, and even the most important pastime of all-relaxing. Decks can interfere with relaxing, however. Wood decks require maintenance, refinishing and, often, repair.
View Deck Plans collection.
Also, poorly built or maintained decks present a danger to homeowners. A neglected deck can develop serious structural problems that show up unexpectedly. Besides problems posed by poor construction, wood decks are prone to failure from rot and from insects.
Until recently, unless you could afford naturally rot-resistant wood species like redwood, teak, or red cedar, your options were limited to treated wood or untreated wood, which require maintenance. The push to recycle combined with modern technology has created an array of new, high-tech decking materials that eliminate most maintenance and all finishing chores. They're also splinter-free, cost a bit more than pressure-treated wood but less than the expensive species, and remove the headache of finishing, maintenance, and repair.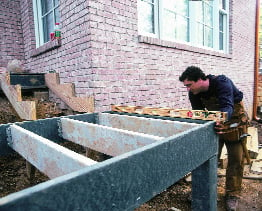 This structural composite lumber comes with a 50-year warranty and stands up against saltwater, termites, and fungus-problems that would ruin an ordinary deck. Photo courtesy of Carefree Exteriors
These new decking materials come in a variety of colors, finishes, and brand names, but most are a combination of real wood (ground and processed from mill waste) and recycled plastic, such as milk, juice, and detergent bottles (high-density polyethylene). Others use wood fibers mixed with PVC. These combinations of wood and plastic (and ultraviolet light inhibitors) mean that waterproofing, staining, painting, repairing, or any of those other tiresome tasks you had to take care of with your old wood deck, are now things of the past.
Although building a deck with these new synthetic decking materials is accomplished in much the same way as building with traditional wood decking (you can saw, cut, rout, nail, and screw just like you do with wood), it's not made to be a structural material. In other words, the frame that holds up the deck still needs to be made of a stronger material. So your joists (2x10s or whatever the job calls for) and posts should be made of real wood.
Even on close inspection the composition decking material on this porch looks very close to the real thing. Photo courtesy of Correct Deck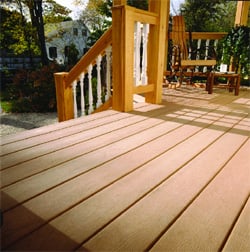 Not all manmade decking materials are wood fiber and plastic composites. PVC, or polyvinyl chloride (the same stuff they make water supply and drain pipes out of), decking is available for building backyard decks and rails. PVC decking is different from the other synthetic decking in other ways as well. For one thing, the other materials are solid; PVC decking is extruded, which means it's formed by a machine into a long, rectangular box with reinforcing channels running its length. Most PVC decking is also formed with one side textured for good footing.
As good as they are, these synthetic materials aren't perfect. One criticism is that they have an "artificial" look. To make synthetic decking look more like the real thing, some people paint or stain it. Also, cost is a large factor. Almost all of these synthetic products cost more than standard decking. But if you don't mind spending money up front to save money in the long run, synthetic decking may be for you.
Building a Deck
The expert advice in this book helps you to avoid the mistakes and to overcome the design and construction problems you will undoubtedly encounter when building a deck. All you need to know about design, tools, materials, joints and techniques.