Narrow-Lot Housing
Family Home Plans
One result of escalating development costs has been the downsizing of lots. With construction dollars directly tied to the linear footage of roads and utilities, it stands to reason that lot widths continue to decrease.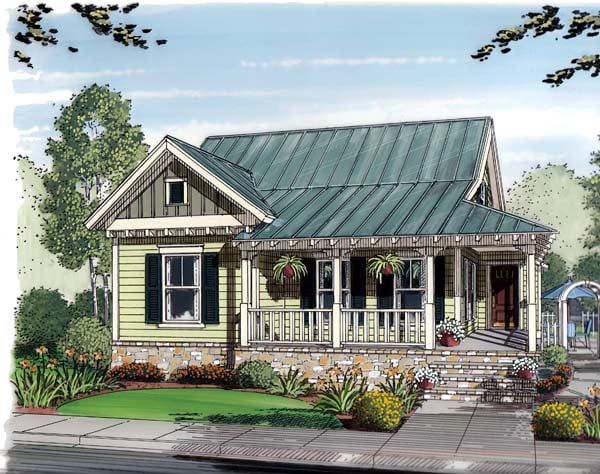 It's not unusual to see lots in both infill areas and newly planned developments ranging from 30 to 55 feet in width. Creating functional floor plans, elevations with curb appeal, and overall site planning can be extremely challenging. Nevertheless, carefully conceived narrow-lot projects offer the desirable combination of privacy, low maintenance, and innovative architectural design that appeals to a variety of market segments.
Our design team offers a variety of narrow-lot solutions that address such critical elements as garage placement and the value of side yards.
Designed to fit on lots ranging from 42 to 55 feet wide, this home offers several design elements that take advantage of a narrow site. The expansive wraparound porch establishes a strong connection with the front sidewalk and neighborhood, while the arbor gates open to a more secluded side yard with just the right amount of low-maintenance outdoor space for entertaining.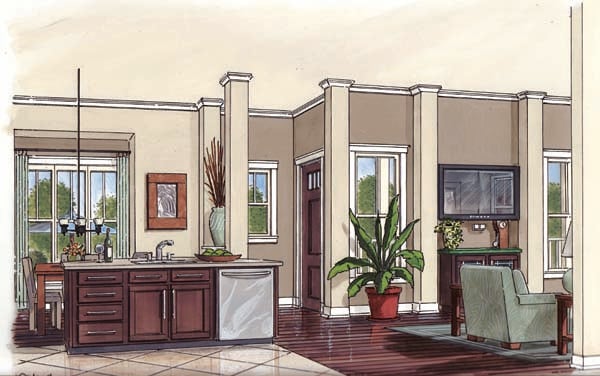 Although the garage could be placed to the side of thehouse on a wider lot, the narrow lot with alley access as shownallows for an efficient and cozy site layout. The optional living quarters above becomes one of the most important and flexible elements of the design. Ideal as a guest suite or home office, this area might also become an income-producing rental in neighborhoods with progressive restrictions.
The open floor plan of the main house acknowledges the kitchen as the focal point of the home. Expansive windows offer views from the dining and kitchen area to the private side yard. Large windows in the living room provide plenty of natural lightand cross-ventilation, while 10-foot ceilings throughout thehome add to the openness.
Traffic flow, often one of the most challenging elements of narrow-lot designs, is successfully addressed here. Notice how the logical "paths" allow passage from one area of the home to another without having to walk diagonally through any room. This results in rooms that are not only easier to furnish, but also require less square footage.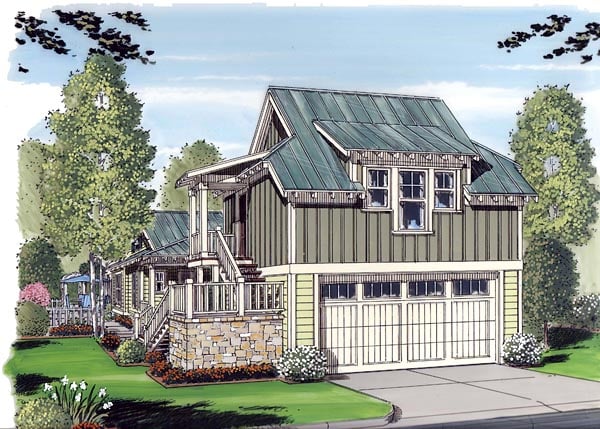 From an actual day-today living experience, it's often the details such asstorage and functionality that make any home enjoyable. Linen cabinets in each bathroom, a built-in pantry in the kitchen, and a window and counter space in the laundry room are all greatly appreciated. Perhaps the most functional area, however, is the "drop zone." Here, you'll find dedicated storage for the mail, keys, cellphones, and all of the other items that are typically tossed on the kitchen counter.
Finally, the exterior design features a careful blend of materialsand details resulting in and a well-proportioned and traditionally inspired cottage. However, closer inspection reveals that the home is actually a very economical rectangle that utilizes simpleand straight forward roof forms.