Unique Garage/Carport Plan 30505
Family Home Plans
Are you in the market for an outbuilding? Instead of planning for a getaway, many homeowners are choosing to update their properties. Namely, they will construct a functional detached garage. One car Garage/Carport Plan 30505 has one automobile bay and a covered carport area. The carport easily transforms into a spacious outdoor living area. Combined with the optional kitchen and toilet room in the garage, the entire space offers an efficient alternative to a separate and costly outdoor kitchen.
Garage/Carport Plan with kitchen
Garage/Carport Plan 30505 is a popular choice because it fits the bill for family recreation. Firstly, the carport is a shaded place to accommodate outdoor dining. Set up lawn chairs or a big table, and feast on hot dogs and steak. If you own a swimming pool, it doubles as a pool house plan. Plus, you can stow away rafts and pool maintenance equipment in the storage room for easy access. If you host a birthday party for children, everything they need is outside, and no tiny wet feet will travel in and out of your home.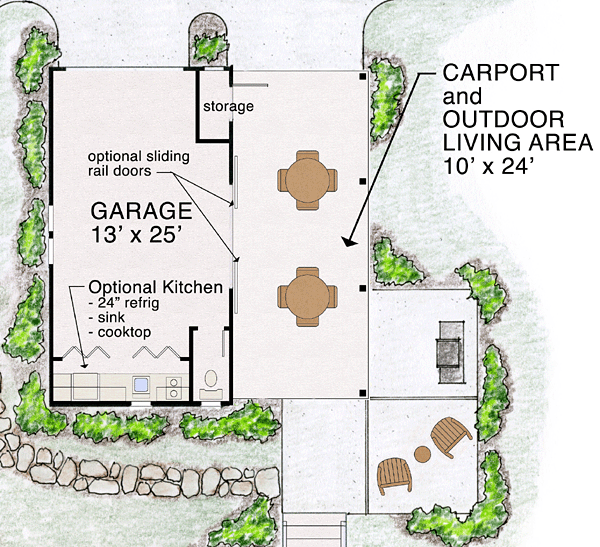 Secondly, on that note, the kitchen and bathroom plans are optional. The suggested kitchen is located inside Garage/Carport Plan 30505. If you would enjoy an alternate space to prepare those steaks, consider the 24″ refrigerator, sink, and cooktop. There's something special about cooking and dining outside of the home, and we expect that you will spend lots of time here in the spring, summer, and fall seasons. Again, the toilet room is convenient and saves you and your guests from making a long walk to the main house.
Storage and parking plans
Aside from entertaining, let's consider the practical function of this combination detached garage and carport blueprint. The garage area is 364 square feet. Do you love wood working? No problem! Set up your workbench and get started, rain or shine. Install cabinets and peg board on the back wall and organize and store all kinds of tools and equipment. How about classic cars? Keep your project car safe in the garage and work on restoration in your down time.
Lastly, this plan is for those who simply need storage. If your attached garage is lacking parking area, you can always use this extra bay. If you need to store equipment for your side business, here is your solution to an over-packed house. The benefits of building a detached garage are endless. Click here to see the specifications and pricing for Garage/Carport Plan 30505 at Family Home Plans.
Don't forget to save this plan on Pinterest using the brochure below!